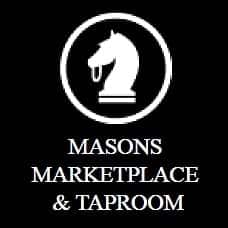 Masons Marketplace, 550 County Rd 50, New Hapton 10958 - Phone:

845-374-2590
Your local Market, Taproom & Kitchen. Open every day serving breakfast, lunch, dinner and Sunday brunch.
The building will be 150 years old next year. It sits majestically on Golf Links Road in the Town of Wawayanda, adjacent to what was once the railroad line connecting Goshen to Middletown.
It was first a stagecoach stop and the center of life in Hampton – now known as New Hampton – and had a dance floor, a tavern, and rooms for let.
The historical marker reads: "A 1700 industrial and mill settlement. Wawayanda Inn built in 1866, a store and stagecoach stop. Mason's store established in 1917."
Find a variety of LunaGrown products on the shelves and on the lunch and dinner menu.