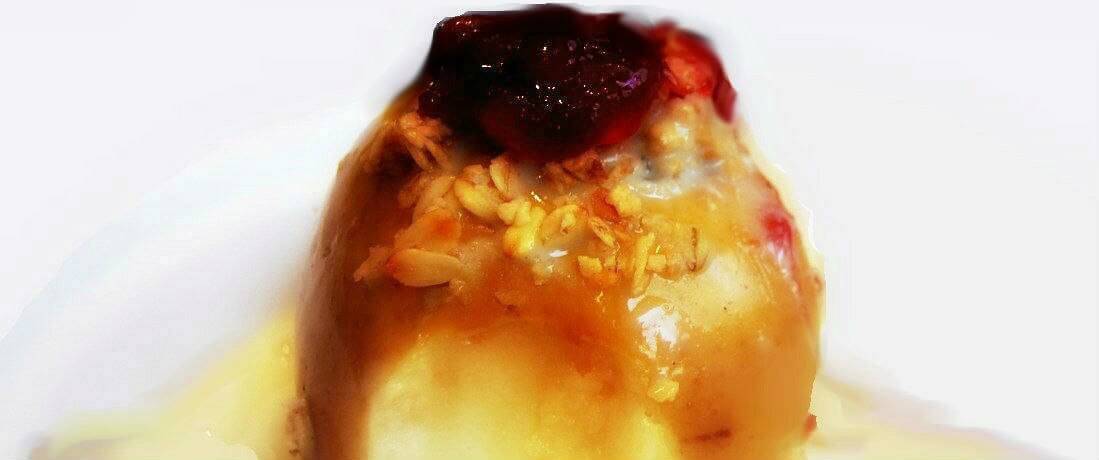 Cranberry Baked Apple to Gladden Your Heart
We learned this week that our Cranberry Jam is a favored ingredient in a local artisan baked apple dessert. She was kind enough to give us permission to share her technique. Noting that everyone has their own special way of creating baked apple for the family.
"All millionaires love a baked apple." Ronald Firbank, novelist (1886-1926) 'Vainglory'
We are lucky here in the Hudson Valley to have an abundance of apples long after the season is over. Our favorite apples to cook with are Cortland or Gala apples. We also like a sweet golden apple for both cooking and eating right off the tree. Choosing your favorite apple for baking will make the enjoyment of the dish even nicer
To learn another persons approach in creating an old favorite is a simple joy. Creating baked apples is a tradition for many families. The jam maker enjoyed baked apples on camping trips as a young boy. For many, the recipe is as simple as brown sugar, cinnamon, and raisins.
Some prefer to fill the baked apple with a combination of berries and nuts topped with vanilla cream and brandy. A classically filled baked apple combined with that of an apple dumpling is the recipe we offer. We enjoy a bit of caramel sauce and some pecan on ours, however, you may prefer a pat of butter and some apple brandy.
Endeared by many LunaGrown Cranberry Jam. Guaranteed to become a favorite is this baked apple recipe. A great addition to a weekend breakfast, or a nice warm gift for an old friend. Warming your heart and delighting your memories. The scent of delicious apple and cranberry being baked together.
If you enjoy apples you might like our delicious apple muffins.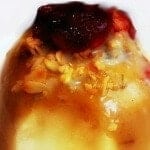 Baked Apple with Cranberry Jam
Baked apple with LunaGrown Cranberry jam
Ingredients
4-6

medium apples *choose your favorite

we prefer Gala or Golden

1-9

ounce

jar LunaGrown Cranberry Jam

1/2

cup

flour

1/2

cup

cinnamon and sugar

Puff pastry

Caramel sauce

optional

Walnuts

or Pecans, raisins (optional)
Instructions
Peel and core the apples leaving the bottom of the apple intact.

Combine cinnamon and sugar with your flour and roll apples in the mixture until well coated.

Fill the center of the apple with LunaGrown Cranberry Jam.

Roll out pastry dough and wrap apple pinching the dough at the top to create a seal.

Place apples in a 9 x 9 glass pan and put in the freezer for 10 minutes. (this will keep the pastry dough from sagging to the bottom of the apple during the baking process.

Heat oven to 375°. Cook apples for 25 - 35 minutes or until pastry is golden brown.

Top with warm caramel and chopped nuts if desired.
Recipe Notes
Once cooked these freeze nicely. Do not freeze when uncooked!