Sinfully Cinnamon Raisin Jam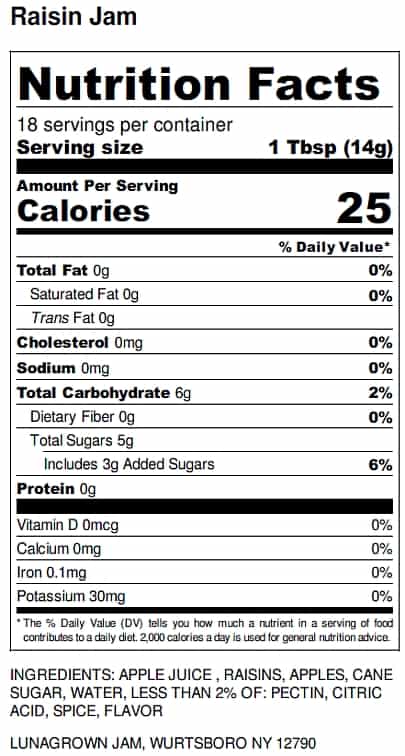 LunaGrown's Cinnamon Raisin Jam is created with California Natural Seedless Raisins (California Naturals) are naturally sun-dried. These raisins contain no added sulfites or drying agents, just pure sunshine!
Many LunaGrown lovers enjoy this jam with meals that include duck or quail as well as other poultry. Some prefer to serve our Raisin Jam with roasts or smoked meat platters. We happen to like it best in oatmeal on a cold morning. It's beautiful on whole grain muffins, and warmed with fresh cinnamon buns.
We choose top quality raisins to blend with local Hudson Valley grown apples and introduce cinnamon and our combination of special seasonings. Including vanilla, nutmeg and a touch of black strap molasses. This is a deep and rich combination.
"Happiness is like jam, you can't spread even a little without getting some on yourself" Author Unknown
As with all our products LunaGrown relies on the natural sugars of the fruit for the bulk of our sweetness. You won't find any added artificial ingredients in any of our products. By creating our jam in this fashion we help you to discover new ways of enjoying, and serving jam.
LunaGrown Cinnamon Raisin Jam is one of the Jam Maker's favorites. So if we run out, it's because he at it all. This is a very rich and strong flavored jam. Plain delicious on your morning muffins or added to a hot cereal on a cool morning. An indelible experience for your palate.