Bleeding Zombie Finger Cookies
As a dog owner, I am not a huge Halloween fan. The night comes with certain challenges for some pet owners.  I do, however, love the creativity that goes with this holiday. I love cookies and Jam as well as social gatherings. These Bleeding Zombie Finger Cookies are a wonderful way to get into the creepy spirit. A frightfully delicious treat, no matter how you intend on celebrating.
Luckily these take very little time to make and are a huge impact at gatherings. Children are amazed at the Zombie fingers and delight in eating them! As for adults, well some like giving the finger and what a nice way of doing so by offering up a Bleeding Zombie Finger Cookie.
One of the nice things about this recipe is it can also be made into Skeleton Bones. Excellent for dipping in your favorite Zombie Jam blood. No one knows for sure what color Zombie blood is or what it tastes like. Serve these up with any of your favorite LunaGrown Jams.
You can use any flavor of jam you would like, no one says the "blood" has to be red!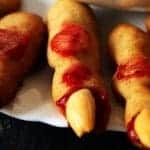 Bleeding Zombie Finger Cookies
Ingredients
1 1/8

cups

Unsalted butter

1 1/2

cups

Sugar

3/4

tsp

salt

1

Large egg

1/4

cup

Whole milk

1

tsp

Vanilla

1

tbsp

Lemon zest

4 1/4

cups

Cake flour

1 1/4

tbsp

Baking powder

Whole almonds

LunaGrown Raspberry or Strawberry Jam*
Instructions
Preheat oven to 350 F.

Cream the butter, sugar and salt in an electric mixer with a paddle attachment until light and fluffy.

Add the egg, then the milk, vanilla and zest. Scrape down the sides of the bowl with a rubber spatula and mix again.

Sift together flour and baking powder. Add dry mixture to wet mixture and blend just until combined.

Wrap dough in plastic wrap and chill until firm.

Take about 2 to 3 tablespoons of dough per finger. Roll each into a ball, then a log, and shape into a finger with knuckle marks. Make an indent at one end for fingernail, smear some raspberry jam into it and place whole almond in the indent. Bake for 8 to 10 minutes. You might need to add more jam once cooled for a bloodied look.