Blueberry Cheddar Biscuits with Lemon Marmalade
Our Lemon Marmalade with Lavender is wonderful in all it's traditional uses. We suggest you add a teaspoon of this to your summer cocktails or winter tea rather than the classic sweeteners. Perhaps blended with some ice for a light summer cool down on a hot afternoon.
Some have asked what one puts Lemon Marmalade on. This often perplexes me since I can think of many things to put Lemon Marmalade on. Other than the obvious toast or cheese pairings, it's nice in a hot cup of tea instead of sugar or even in an even cocktail. These Blueberry Cheddar biscuits are a perfect match for those uncertain about what to put that Lemon Marmalade on.
These Blueberry Cheddar biscuits are of course wonderful for a morning breakfast, even an afternoon social gathering. A thoughtful gift for a friend who might be feeling a bit blue. Of course how can you go wrong with fresh blueberries and your favorite sharp cheddar cheese? Adding that sweet tartness of the Lemon Marmalade brings all the flavors together with just the right balance.
These Blueberry Cheddar Biscuits are so easy to create you'll be wishing blueberry season came faster! No matter what your friends may say, remember these are biscuits, not scones. Wink!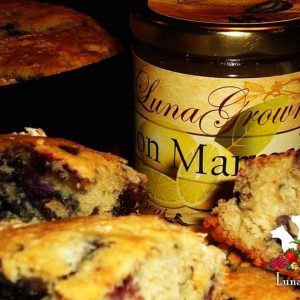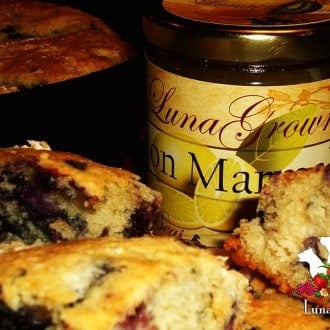 Blueberry Cheddar Biscuits
Ingredients
2

cups

of flour

2/3

cup

of sugar

1/4

tsp

baking soda

1

tsp

salt

1

Tbsp

baking powder

Mix these ingredients well. **For those that like to omit the salt

please don't. It is needed for leavening and is an intricate part of the recipe.

6

Tbsp

Butter diced

Mix the butter into the dried ingredients until a flake like dough is formed.

Or until the butter is like little peas in the sand.

1

cup

buttermilk

1/2

tsp

vanilla

1/4

cinnamon

*Add these ingredients and mix into a wet dough

1

cup

or so fresh blueberries

1/2

cup

freshly shredded sharp cheddar cheese
Instructions
Using a rubber spatula or wooden spoon mix the berries and cheese into your dough. It will be sticky. You may add a tablespoon of flour so that you may form a ball with the dough.

Place dough on cutting board and with your hands pat the dough to around an inch thick.

Cut into round biscuits and place in greased pan or cast iron skillet and bake at 375° for 20-30 minutes or until the top is lightly browned.

Allow to cool for 5 minutes before serving with whipped butter and some LunaGrown Lemon Marmalade!