Breakfast or Dessert Crêpes
When I was a young boy we visited Boston Harbor on what was a dark grey, misty day. It was cold and raw out. Yes, there was a bit of mystery for a young boy to enjoy. But more so a general lack of things to do, This tends to make young boys whiny children.
Thanks to my Parents and a vendor on the docks I had my first jam-filled crepe ever. It was strawberry and had powdered sugar on top. After that no matter how miserable the day really was I never noticed.
Some consider crêpes difficult to create, this was always confusing to me. They are certainly easier than Belgium Waffles, and I make those all the time.
At one time there was a restaurant in Manhattan that offered only stuffed crêpes. The menu, filled with ingredients of vegetables, fish and meats, gravies, sauces, and cheeses was a wonderland. It was a fantastic ordeal and very delicious. Interestingly they did not offer a dessert crêpe.
I have tried many crepe recipes and finally came across this one from 1958. This is the closest I have ever come to recreating the crepe I remember from that time in Boston Harbor. I hope you enjoy it as much as I do.
Dust generously with confectioner sugar
If you are planning on enjoying these for breakfast consider serving with a plain yogurt sauce. If dessert is more to your liking, they are wonderful with fresh whipped cream and some dark chocolate shavings.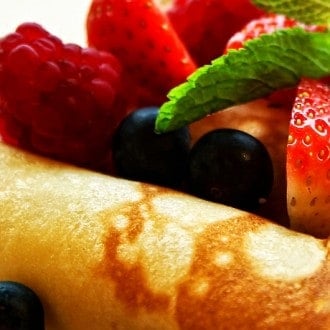 Crêpes a la LunaGrown
Ingredients
1

cup

plus 2 tablespoons whole milk

2

large eggs

1

cup

all-purpose flour

2

tablespoons

granulated sugar

3

tablespoons

plus 1 teaspoon unsalted butter

melted and cooled slightly

1/4

teaspoon

salt

1

jar LunaGrown Jam

1

tablespoon

brandy

Confectioners sugar
Instructions
Blend milk, eggs, flour, granulated sugar, 2 tablespoons butter, and salt in a blender, scraping down side once or twice, until batter is smooth, about 1 minute.

Let batter stand at room temperature 1 hour (this prevents tough crêpes).

Stir together jam and brandy in a small bowl.

Preheat oven to 250° F.

Add 1/2 teaspoon butter to skillet and brush to coat bottom.

Heat over moderate heat until hot, about 30 seconds, then pour 1/4 cup batter into skillet, tilting to coat bottom evenly.

Cook until underside is pale golden, 1 ½ to 2 minutes, then jerk skillet to loosen crepe and flip crepe with a spatula.

Cook until underside is pale golden, 30 seconds to 1 minute.

Transfer crepe with spatula to a work surface, turning over so that side cooked first is face down.

Spread 1 tablespoon jam all over crepe and roll up jelly-roll style.

Transfer to a heatproof platter and keep warm in oven.

Make 7 more crêpes in same manner, transferring to oven. Arrange rolled crêpes side by side.