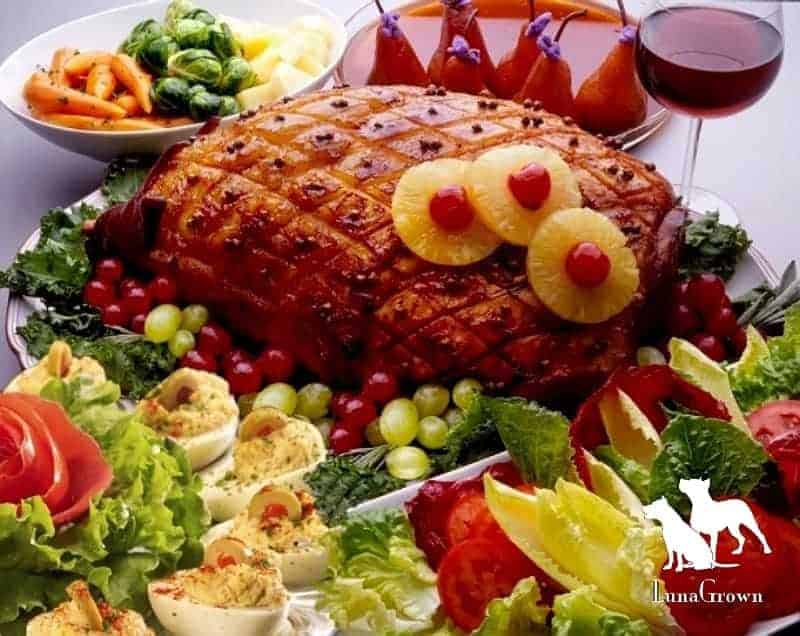 Holiday Dinner With LunaGrown
We are very pleased to share with you some of our favorite holiday recipes.  We begin with a wonderful holiday cocktail and goat cheese appetizer. Onto our Pineapple Glazed Ham served with sauteed carrots and parsnips in a nice apricot sauce, and for dessert a classic Swiss Jelly Roll. We hope you enjoy and make LunaGrown part of your holiday meals.
Aberdeen Flip
The Aberdeen Flip is a wonderfully rich cocktail with hints of spice and fruit that will cheer any holiday gathering. Recipe courtesy of Chivas Scotch Whiskey
For this cocktail you will need:
2 oz Chivas 18
1 oz  Sherry
1 Whole Egg
¼ oz Spiced Syrup
Dash Chocolate Bitters
Tsp Blackberry Jam
Grated Nutmeg
To Prepare:
Dry shake all ingredients hard, add ice, shake hard again & strain into sherry glass.
Dust with grated nutmeg.
Pineapple Glazed Ham
A wonderfully moist and flavorful ham.
You will need the following items:
8 lb bone-in ham
8 cups pineapple juice
1 cup brown sugar
1 cup water
1 cup Pineapple jam
Follow these directions to prepare:
In a bowl, dissolve brown sugar in water. Pour in a large stockpot together with the ham and pineapple juice. Make sure ham is fully submerged in juice, add more juice or water if needed.
Bring to a boil, lower heat and cook for 1 hour. Set aside to cool.
Transfer ham in a roasting pan, score skin and fat into diamond shapes. Spread pineapple jam all around the ham.
Bake ham uncovered at pre-heated 400°F oven for 40 minutes or until well browned, basting once with juice from bottom of pan.
Let ham stand covered for 15 minutes before carving. Enjoy!!!
Goat Cheese And Raspberry Jam Appetizer
Tart raspberry jam and subtle, creamy goat cheese layered on a water cracker, garnished with a mint leaf.
You will need the following items:
1 cup Raspberry jam
1 block good quality goat cheese
1 package water crackers
20 mint leaves
To prepare:
Chill goat cheese until quite firm. Slice into discs approximately 1/4 inch thick.
Place a disc of goat cheese on a water cracker and top with a teaspoon of raspberry jam. Garnish with a mint leaf. Repeat with remaining ingredients.
Sauteed Carrots and Parsnips with Apricot Jam
The natural sugars in the vegetables work beautifully with the apricot jam to give it the perfect sticky and flavorful finish.
You will need the following:
1 lb  small carrots, peeled and tops trimmed
1 lb  small parsnips, peeled and halved (if larger than the carrots)
3 tbsp olive oil
1 tsp cumin seeds
Salt and freshly ground black pepper
2 tablespoons (1/4 stick) butter
1 tablespoon chopped fresh rosemary
1 1/2 tablespoons Apricot Jam
Follow these directions to prepare:
Heat oil in large skillet over medium-high heat. Add carrots and parsnips. Sprinkle with coarse kosher salt and pepper. Saute until vegetables are beginning to brown at edges, about 12 minutes. DO AHEAD: Can be made 1 day ahead. Cover and chill.

Add butter, rosemary, and Apricot Jam to vegetables. Toss over medium heat until heated through and vegetables are glazed, about 5 minutes. Season to taste with more salt and pepper, if desired.
Swiss Jelly Roll
This is a wonderfully lite dessert and should be served with fresh whipped cream and fruit.
You will need the following:
6 eggs, separated
1/4 cup water
1-1/2 cups sugar, divided
1 teaspoon vanilla extract
1 teaspoon lemon extract
1-1/4 cups cake flour
1/2 teaspoon baking powder
1/2 teaspoon salt
1 teaspoon cream of tartar
Confectioners' sugar
1 jar (12 ounces) Strawberry, Raspberry or Currant Jam
Follow these directions to prepare:
Place egg whites in large bowl; let stand at room temperature for 30 minutes. Line a greased 15-in. x 10-in. x 1-in. baking pan with waxed paper; grease the paper and set aside.
In a large bowl, beat egg yolks and water on high speed for 5 minutes or until thick and lemon-colored. Gradually beat in 1 cup sugar. Stir in extracts. Sift flour, baking powder and salt together twice; gradually add to yolk mixture and mix well (batter will be very thick).
In a large bowl with clean beaters, beat egg whites and cream of tartar on medium speed until soft peaks form. Gradually beat in remaining sugar, 1 tablespoon at a time, on high until stiff peaks form. Gradually fold into batter. Spread evenly into prepared pan.
Bake at 350° for 15/18 minutes or until cake springs back when lightly touched. Cool for 5 minutes. Invert onto a kitchen towel dusted with confectioners' sugar. Gently peel off waxed paper. Roll up cake in the towel jelly-roll style, starting with a short side. Cool completely on a wire rack. Unroll cake; spread evenly with jelly. Roll up; dust with confectioners' sugar.