LunaGrown Hot Pepper Jelly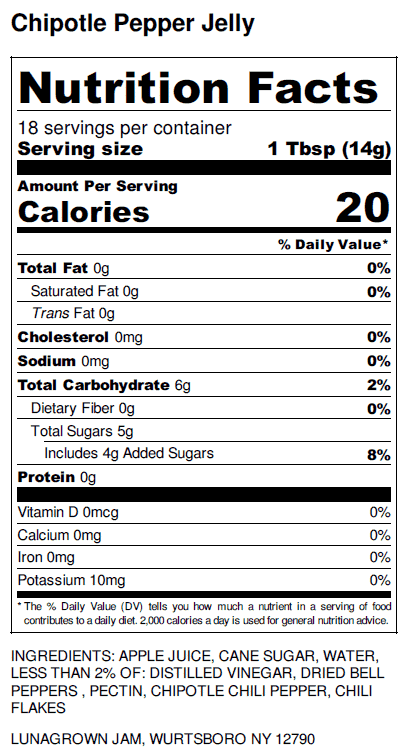 LunaGrown's Chipotle Pepper Jelly is a sweet smokey delight.  This jelly is a warm start to any morning on hot buttermilk biscuits and eggs.Excellent served with sausage and bacon. Our Hot Pepper Jelly also pairs beautifully on a Turkey or Roast Beef sandwich. Outstanding with your favorite cheese.
"Love can be just like hot peppers, exciting on the way in and agonizing on the way out." ~ Sorin Suciu, The Scriptlings
As with all our products LunaGrown relies on the natural sugars of the fruit for the bulk of our sweetness. You won't find any added artificial ingredients in any of our products. By creating our jam in this fashion we help you to discover new ways of enjoying, and serving jam.
This Jelly makes an admirable pairing with smoked or seasoned meats and sausages. Chipotle Pepper Jelly is an exquisite addition to your cocktails. We suggest a vodka martini with cucumber juice and a tablespoon of Chipotle Jelly from LunaGrown!
You can really be the spice of the party. Make your gatherings memorable.