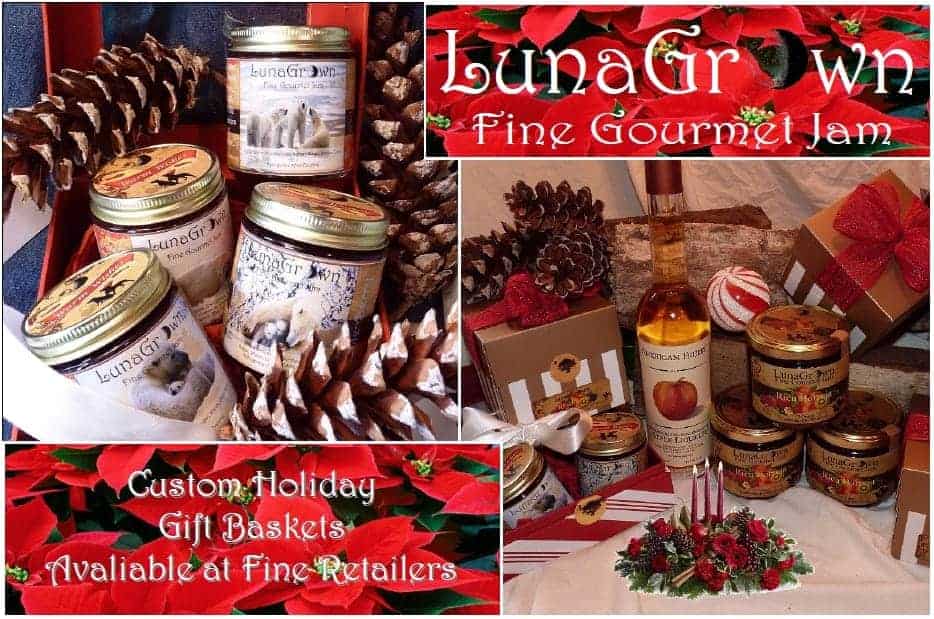 LunaGrown Holiday Gift Packages 2012
Holidays come and gone. Here are some ghosts from the past. Our packaging was done in-house. All photographs taken by Linda Lou Bartle, Spirits provided by Warwick Winery.
The holiday season is upon us and what a wonderful time to remember our past and to be grateful for all that may unfold in our future. Remembering the difficult times that we made it through, and the good times we celebrated. The new friends, the old friends, the seemingly small gestures that others offered that made such a huge difference in our lives.
LunaGrown has no way to thank each and every person that has touched us, but know that part of you goes into every jar in a way.  For every question you have asked, every challenge you have presented us with, and of course every compliment you have bestowed has made LunaGrown ever diligent. We are committed to bringing you the finest quality, homemade jam possible. For this we thank you.  We look forward to being a part of your life this coming year and for many thereafter.
We hope you have an enjoyable Holiday Season. We wish all living creatures on this planet the same peace and serenity we strive to find in ourselves.  Remember no matter where you are in this great world or who you are, your existence is a miracle!
Our Tiffany Gift Box Contains Nine 1.5 oz jars in the following flavors: Apple Cranberry, Blackberry, Blueberry, Peach, Pear, Plum, Raspberry, Strawberry, and Triple berry Jams
Our Polar Bear Gift Box Contains Four 4 oz jars in the following flavors: Apple Cranberry, Blackberry, Raspberry, and Triple berry Jams
Our Signature Series Gift Box Contains Four 4 oz jars in the following flavors: Cinnamon Raisin,  Otoño Cosecha, Rica Barreja, and Tropical Marmalade
We also offer Rica Barreja Gift Box Containing One 12 oz jar of our best selling signature jam