Description
Our Delightful Signature Blend Rica Barreja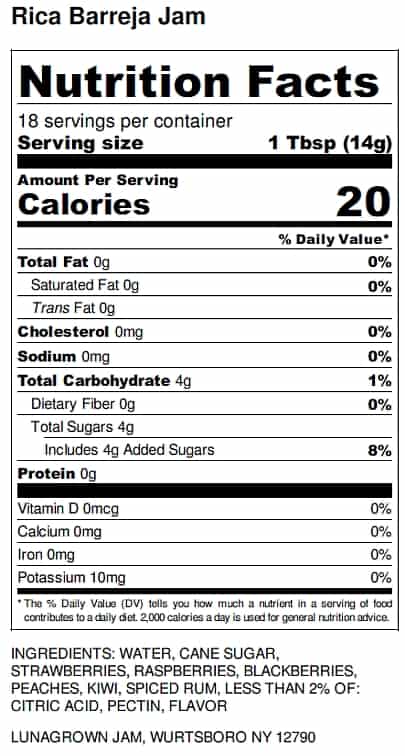 Rica Barreja is LunaGrown's own blend of fresh fruits kissed with natural vanilla. The name Rica Barreja means 'Wealthy Blend'. We have chosen specific fruits that compliment one another and give this jam it's sweet, rich, smokey flavor, reminiscent of leather chairs, fine woven tapestry and spiced brandy.
Rica Barreja is special not only in the combination of it's fruits, it's cooking process, and of course it's flavor. This special jam is only offered from LunaGrown. This is our signature Jam! Anyone can combine fruits but it takes thoughtfulness and consideration to create a jam rich and balanced in flavor, while retaining the fruit's essential nutrients.
This jam is so satisfying that we almost wanted to eat it on it's own, unadulterated and out of the jar. It seems a bit decadent, but catch me on a bad day, and I might be on the couch with a jar of LunaGrown Jam and a spoon." ~ Elizabeth Segran, Contributing Writer, Fast Company, The Atlantic, Fortune and Nation
As with all our products LunaGrown relies on the natural sugars of the fruit for the bulk of our sweetness. You won't find any added artificial ingredients in any of our products. By creating our jam in this fashion we help you to discover new ways of enjoying, and serving jam.
We have heard of many uses for this jam other than the traditional application on toast. We have been told it's wonderful in plain yogurt, on ice cream, over French toast, served with cheese and many others. Our favorite way to serve this jam is with a spoon. Just a spoon.
Read the Review of LunaGrown's Rica Barreja by Hudson Valley Wine Magazine.