Description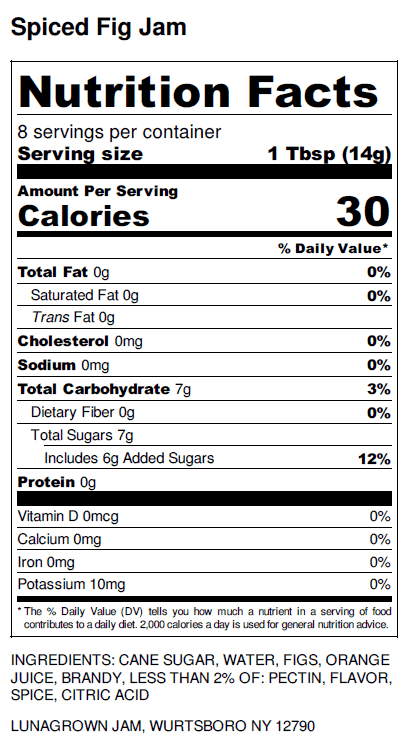 LunaGrown's Spiced Fig Jam is created with a locally grown Chicago Hearty Figs. We grace our fig jam with a hint of cinnamon and a touch of brandy for that rich experience your palate has longed for. This remarkable jam is available year round.
Served in select cafes and restaurants in the Hudson Valley. Check your menu, you might find it on top of your burger with sharp cheese and spinach or as an accompaniment to your pork dinner.
Nothing strikes a memory like the warm subtleness of Spiced Fig Jam. Revisit the past with this gentle, fragrant jam on your favorite treats. Our Spiced Fig Jam is also great with smoked meats or cheese and is an added indulgence to any gathering. You can bake it with brie and serve it as a beautiful appetizer at your next social event or save it for yourself.
"Nothing great is created suddenly, any more than a bunch of grapes or a fig. If you tell me that you desire a fig. I answer you that there must be time. Let it first blossom, then bear fruit, then ripen." Epictetus
As with all our products LunaGrown relies on the natural sugars of the fruit for the bulk of our sweetness. You won't find any added artificial ingredients in any of our products. By creating our jam in this fashion we help you to discover new ways of enjoying, and serving jam.
Use LunaGrown Spiced Fig Jam in this home warming Fig Jam Cake. Enjoy this recipe shared by a customer. One of our all-time favorite uses for this delightful jam! Plain delicious on your morning muffins or added to a hot cereal on a cool morning.  An indelible experience for your palate.