Description
LunaGrown Carrot Cake Jam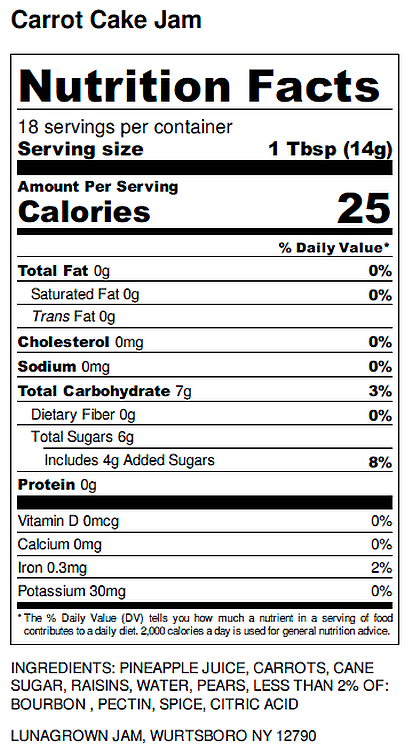 Our tasteful Carrot Cake Jam is created with locally grown grown carrots from the black dirt region of the Hudson Valley. We use golden pears, also grown locally. Finally, Pineapple from California. This delicate jam is seasoned with the same spices used in your favorite carrot cake.
The versatility of this jam is really quite impressive. We enjoy it with cream cheese on raisin toast. A brilliant addition atop pancakes, waffles, cinnamon rolls and oatmeal. A beautiful accompaniment to pan seared scallops.
"Vegetables are a must on a diet. I suggest carrot cake, zucchini bread, and pumpkin pie."  Jim Davis
LunaGrown Carrot Cake jam is also nice atop ice cream or warm brownies!
As with all our products LunaGrown relies on the natural sugars of the fruit for the bulk of our sweetness. You won't find any added artificial ingredients in any of our products. By creating our jam in this fashion we help you to discover new ways of enjoying, and serving jam.
Our delightful Carrot Cake Jam is very limited. We hope you take the opportunity to enjoy some and look forward to another experience next season!