Smooth & Creamy Honey Peach Jam with Cherries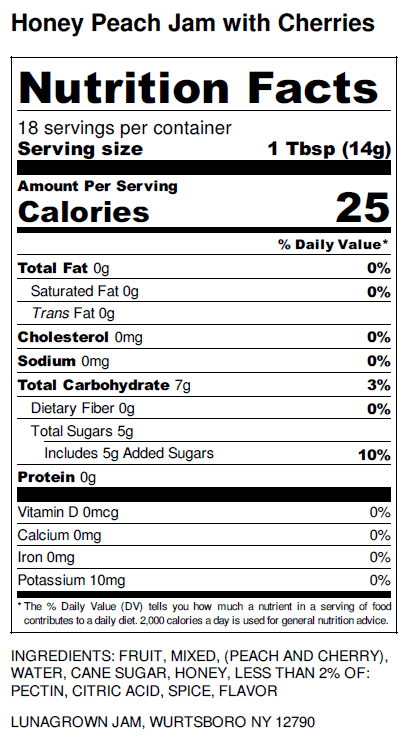 Our Honey Peach Jam is a beautiful spread whipped with fresh tart cherries. This jam pairs nicely with a mild cheese just as well as it does a strong bold cheese. Delightful on toast and makes a wonderful addition to cocktails, baked goods and is a favorite combined with fresh whipped or clotted cream.
Our Honey Peach Jam with Cherries will help create a breakfast memory to cherish. The aroma alone gives reason to pause and consider what the day may present. We also suggest you try some in your hot tea as an alternative to the standard sweetener.
"It sighed up through the branches of cherry trees and rattled the thick leaves. Sometimes a cherry would break loose, tumble in the gale, fall and split, filling the night with its fragrance. The air was iron and loam and growth."  Charles Beaumont
As with all our products LunaGrown relies on the natural sugars of the fruit for the bulk of our sweetness. You won't find any added artificial ingredients in any of our products. By creating our jam in this fashion we help you to discover new ways of enjoying, and serving jam.
A vodka cocktail with our Honey Peach Jam sounds too good to be true, add some fresh peaches and cherries and you have a beautiful addition to brunch! We love serving a teaspoon of this jam with a Vanilla Pound cake or Angel cake

Additional information
| | |
| --- | --- |
| Contains: | Case contains twelve (12) 9 ounce jars. |
| Ingredients: | Peaches, Cherries, Pure Cane Sugar, Water, Honey, Pectin, Cinnamon, Pure Almond Extract, Citric acid. |
| Special Note: | This product is seasonal |
Q & A
There are no questions yet