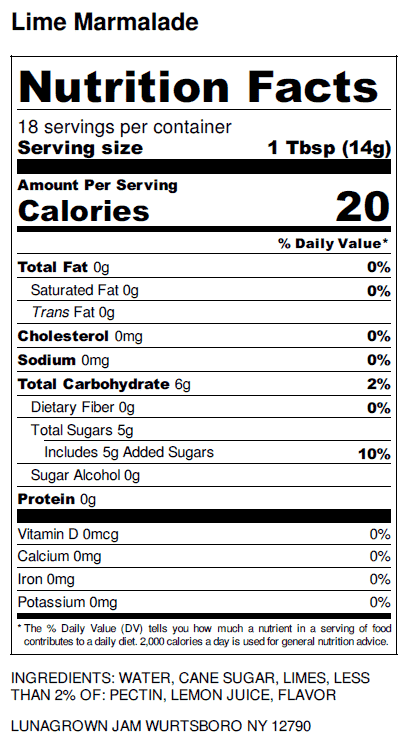 Our Lime Marmalade is a versatile wonder. This lighthearted Marmalade has been known to cause the jam maker to laugh for no reason, it just tastes that good! This Marmalade is delightful on toast but makes a wonderful addition to cocktails, baked goods, or even as an ingredient to create your own fresh dip with cilantro and horseradish.
This Lime Marmalade will help create a breakfast memory to cherish. The aroma alone gives reason to pause and consider what the day may present. We also suggest you try some in your hot tea as an alternative to the standard sweetener.
"Marmalade in the morning has the same effect on taste buds that a cold shower has on the body."
Jenine Larmouth
As with all our products LunaGrown relies on the natural sugars of the fruit for the bulk of our sweetness. You won't find any added artificial ingredients in any of our products. By creating our jam in this fashion we help you to discover new ways of enjoying, and serving jam.
A mango cocktail with our Marmalade sounds too good to be true. We love moist coconut bread, with LunaGrown Lime Marmalade. A whole bunch of other wonderful things too! Such as dipping sauces, cocktails, glazes, and more!