Olde Time Razzleberry Jam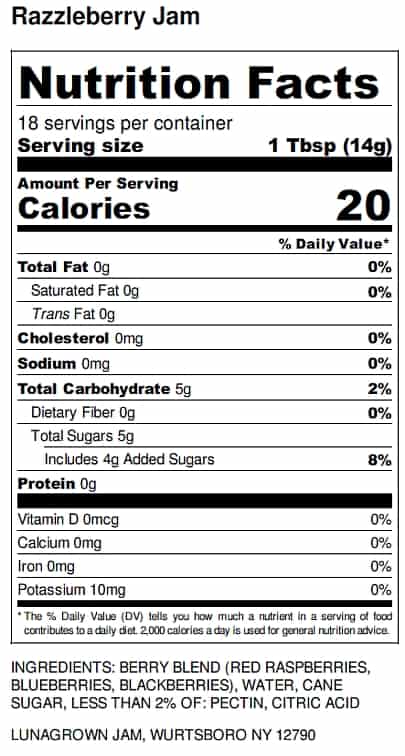 LunaGrown Razzleberry Jam is a combination of Raspberries, Blackberries and Wild Blueberries. We add just a touch of sugar to enhance the delicate flavor.
There are some that question whether Razzleberry Jam is a traditional jam or just a lyric from a song made popular by a 1970's holiday classic. Our sources lead us to believe it has been around for a very long time. Originally Razzleberry Jam (or dressing) was served with game meats and created from wild raspberries and either blackberries or huckleberries, even mulberries and boysenberries have been used in classic recipes.
"Razzleberry pie" was mentioned, on October 15, 1939, in the newspaper comic "The Captain and the Kids" by Rudolph Dirks. Dirks used "razzleberry" several other times in the comic strip and might have coined the name."
As with all our products LunaGrown relies on the natural sugars of the fruit for the bulk of our sweetness. You won't find any added artificial ingredients in any of our products. By creating our jam in this fashion we help you to discover new ways of enjoying, and serving jam.
If you are a lover of traditional berry jams then Razzleberry Jam is a perfect match for you. Delicious on anything you can dream up! A perfect addition to your cookies and cakes. This jam is great for breakfast, with your afternoon or evening meals, on meats, in yogurt, a topping for hot breakfast cereal, or those incredible desserts that everybody loves.