Apricot Glazed BBQ Chicken
I have always enjoyed BBQ with the taste of apricot. Pork is nice and you could certainly substitute, but I much prefer chicken legs and thighs. I had tried for years to recreate a recipe that my uncle used, only to fail miserably time and again.
When I told him I had started my own jam company he suggested, with a laugh that I send him a jar of Apricot Jam. I agreed with the stipulation that if he enjoyed my Jam he would give up the recipe.
I half expected this recipe to be Jam and Ketchup (although I tried that combination and it was not good).
So here it is for you to enjoy. My Uncle's BBQ sauce recipe. When I asked he said he got it out of a book sometime in the 1970s and has stuck to it for years. So we don't know the original creator on this one, I'm only passing the incredible recipe along for others to enjoy.
This recipe is indeed a treat for your palate, as it combines the sweetness of the apricot jam, the saltiness of the soy sauce, the tangy from the hot sauce and that depth of smoke. Tie this all together and it's just amazing. I have used this same recipe on pork tenderloin and am sure it would be great on ribs for those that are rib lovers.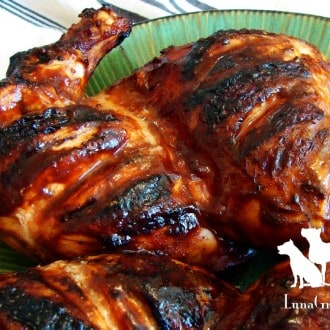 Apricot Glazed BBQ Chicken
Ingredients
1

cup

apricot preserves

1/2

cup

your favorite barbecue sauce

1

tablespoon

soy sauce

1

tablespoon

Worcestershire sauce

1

tablespoon

hot sauce
Instructions
Clean chicken and soak in cool salt water for 1/2 hour before cooking. Pat dry and place on BBQ

To make the glaze: In a medium saucepan over medium heat, melt the preserves. When the preserves are soft, add the barbecue, soy, Worcestershire, and hot sauces. Mix well and cook for about 3 minutes, until warm and well blended. Divide the glaze equally between two bowls, one for brushing on the chicken as they grill and one for serving at the table.

Grill chicken as you normally would, waiting for the last 10 minutes to brush on the Apricot Glaze. BBQ chicken 5 minutes on one side, turn over, glaze and repeat. Serve with additional (separate) glaze and your favorite side dishes.