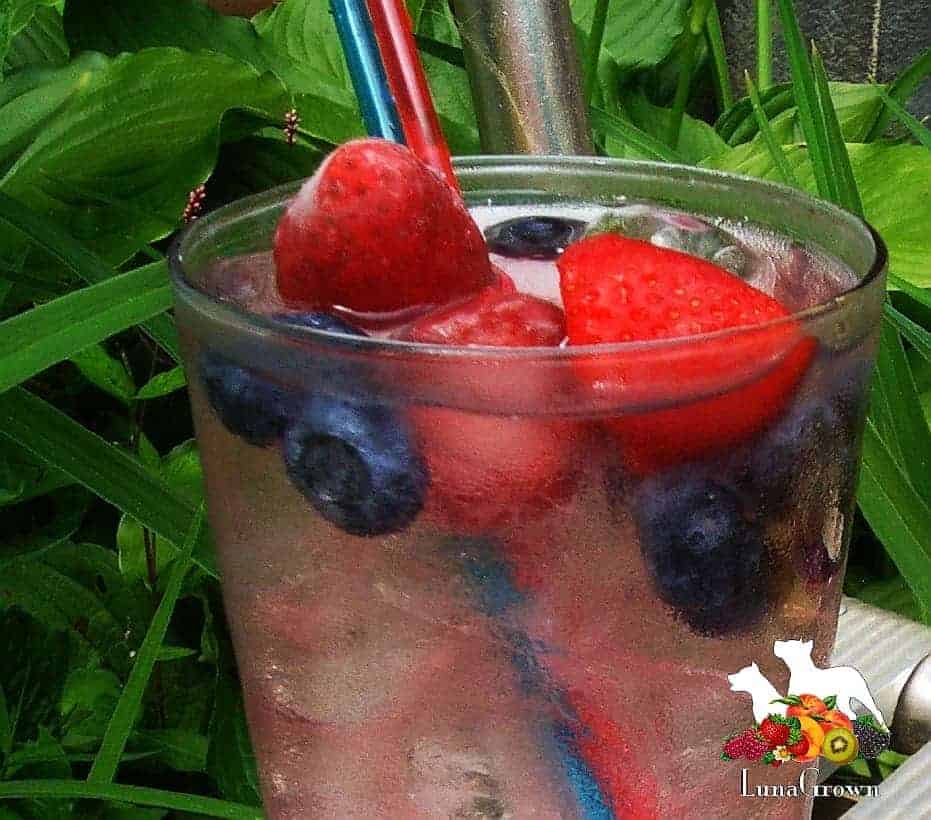 Summertime Jam Drinks
Summertime and it's hot! Nothing better on a warm afternoon or evening than a cool summer beverage. Yes there are the standard soda drinks, the sugar 'juices', and others. But what about that nice homemade Lemonade or Iced Tea.  Wouldn't it be even better if you could forego most of that sugar and just ad a hint of flavor? LunaGrown hopes you will find the drinks below to your liking. This is a great way to use up the last few tablespoons of the jam in your refrigerator rather than letting it go to waste! If you were looking for beverages containing jam and alcohol you can find those suggestions with our Marmalade Cocktail recipes.
Jam Makers Summertime Cool Down
1 large glass of ice, pack that ice in there
1 teaspoon LunaGrown Lemon Lavender Marmalade
1 small handful assorted fresh fruit and a chocolate mint leaf (if it's growing well enough)
Chilled water
This needs No Sugar
Instructions:
Fill that glass with ice and add 1 full rounded spoonful of jam to the top
Pour in chilled water and stir
Toss fresh fruit and mint leaf on the top and grab a straw
When you hit the bottom enjoy the cool fresh fruit and ice
Blueberry Jam Lemonade
1/2 cup freshly squeezed lemon juice
3 tablespoons LunaGrown blueberry jam, (you may substitute other jam flavors)
4 1/2 cups cold water
1/4 cup sugar (optional)
ice
Instructions:
1. In a large pitcher whisk together lemon juice and blueberry jam.
2. Pour in water and ice and store to combine. Serve cold with a large straw. Garnish with fresh berries and mint.
(serves 4)
Raspberry Jam Iced Tea
3-4 black tea bags (boil 2 cups of water and add tea bags. Let seep for 5 minutes. Add an additional 2 cups cold water
1/4 cup sugar to taste (optional)
Ice cubes
Sprig of mint
3 Tablespoons LunaGrown Raspberry Jam (or another flavor of your choice)
Garnish with Fresh Raspberries and some Mint leaves
Instructions
1. Make tea, add sugar (optional) and jam. Allow to cool in refrigerator for 2-3 hours
2. Pour over ice and serve with fresh raspberries and mint leaves (serves 4)
Pineapple Strawberry Jam Fruit Smoothie
2 cup fresh pineapple chunks
1/2 sliced banana
1/2 cups coconut milk
1/2 cup pineapple juice
4 Tbsp Strawberry Jam (or one of your favorites)
1-2 cups of ice
2 to 3 tablespoons honey or to taste (optional)
Instructions
1. In a blender add ice, coconut milk, and pineapple juice. Blend until ice is smooth.
2. Add Jam and fruit to the mixture and blend again until a shake like consistency.
3. If this is too thick you may add a touch of coconut milk or pineapple juice.
4. LunaGrown recommends you taste before adding sweeteners as the flavor will change with the ripeness of the fruits you use.
Remember to be creative.  Change things up to a taste that suits you. Try different citrus fruits, different teas, and every jam you own! If you choose to add alcohol you may, but there's no guarantee it will quench your thirst! Remember the more non-alcoholic drinks you have during the summer heat, the healthier your body will be! Water is great but you also need to make sure you are replacing lost salt, sugar, and other nutrients for your body to function properly. The above suggested drinks should help do the trick.