What to do With Green Tomato Jam
Personally, I like Green Tomato Jam on toast. An artisan grain bread toasted with butter and a savory Green Tomato Jam. Also, I enjoy it as a cheese pairing with a tangy sharp cheese, the sharper the better!
While there are many recipes that utilize Green Tomatoes we like ours as a savory Green Tomato Jam! While some might wrinkle their noses at the thought. Tomatoes are a fruit. Not unlike their cousin the apple they are delicious when prepared correctly no matter red or green.
You might be familiar with fried green tomatoes, sliced thick and breaded. Green tomatoes offer the same amount of beta carotene as ripened ones. If you did not know, you would never recognize green tomatoes as being in the tomato family. They firm and tart. Green tomatoes call for completely different recipes than red or ripe ones.
While reading a jam forum I came across this comment:
"Think of Green Tomato Jam as chutney and take it from there. I love it in a grilled cheese with a nice sharp cheddar. It's great with smoked turkey on sourdough bread. You can bake it with Brie Cheese and serve it on crackers or mix with mayonnaise or sour cream as a dip."
From there we just go wild.
Roasted acorn squash with Green Tomato Jam. One of the nicest ways to enjoy Green Tomato Jam and perfect for the Autumn season. Acorn Squash as well as others are in season during the fall and make a delicious and healthy side dish or even a main course.
This is a hearty Autumn treat. Easy to prepare, beautiful to present and flavors abound! Dinner for two or dinner for twelve our Green Tomato Jam with Acorn Squash a guaranteed hit.
We based our recipe on one from Kevin Lynch of Closet Cooking.
For a light evening meal enjoy this with some delicious savory scones and a bottle of crisp white wine.
If you are not a person who enjoys squash another consideration might be a nice glaze or an addition to your saute. Whether it be on fresh vegetables or seafood, Green Tomato jam is incredibly versatile. This also makes an amazing topping for cheese stuffed hot peppers.
Our Green Tomato Jam utilizes lemons and a blend of spices for a worldly, savory impression. Our tomatoes are grown and harvested locally and our lemons are USDA Certified Organic. This is memorable and sought out. A seasonal favorite!
Now you know! Green Tomato Jam is delicious, versatile, and very classy! Impress your loved ones, just don't tell them, Green Tomato Jam.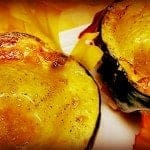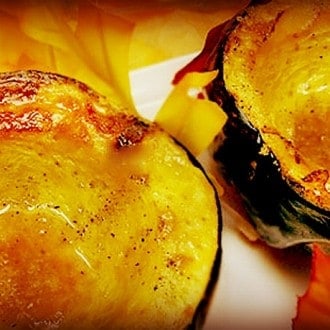 Acorn Squash with Green Tomato Jam!
Ingredients
2

acorn squash

about 1 1/2 pounds each, un-peeled, cut in half and scooped clean

1

cup

diced carrots

turnips, scallions

Coarse salt and ground pepper

1

jar Green Tomato Jam
Instructions
Preheat oven to 450 degrees.

On a large rimmed baking sheet, place squash open side up.

Sprinkle salt and pepper on the diced vegetables and place inside the open squash.

Add one to two tablespoons of Green Tomato Jam to the top of your vegetables, then roast until easily pierced with a paring knife, 35 to 45 minutes.