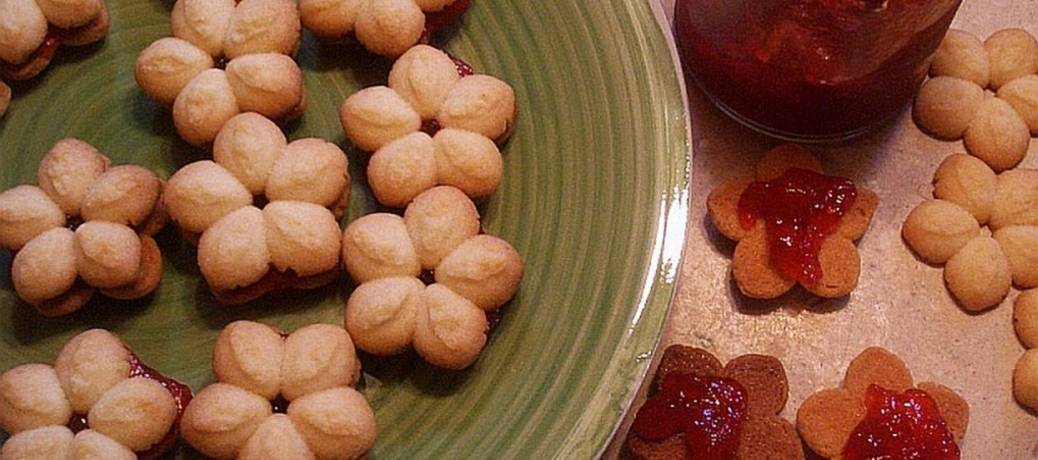 Jam Filled Cookies
Many times you will find LunaGrown offering samples of our jam with various items such as bread, or pound cake. We do our best to advise our customers on the many things one can do with a jar of jam from Cheese or Wine pairings to glazes, sauces, or just in a nice cup of tea.
Once in a while we get creative and make something that prompts our customers to ask if we sell it. Since my love of baking usually stops at self-indulgence or for sampling, rarely would LunaGrown consider stepping far beyond the jam pot. We have no intention of creating these cookies for the marketplace so I have no qualms about sharing the recipe.
I will, however, note that on occasion we do offer Spritz Cookies as part of gift packages which you can load up with jam all on your own. We will not be making our personal variation of this recipe available. There are, however, many variations on cookie gun or pastry bag cookies. I have provided a link for those in need of cookie press recipes, again these are all wonderful with various LunaGrown Jams utilized as a filler.
Note: These cookies should become rather hard once they cool, unlike a traditional spritz cookie which has a crust-like density, these should be hard. Once the cookies have cooled you may place a dollop of your favorite jam in the center and sandwich another cookie on the top. Allow sandwiched cookies to sit on a flat surface overnight. This will give time for the cookie to absorb some of the jams moisture and for the jam to firm up. Hence you will get a nice soft cookie with a chewy center.
Once the cookies have set overnight you may put them in plastic bags and store them in the refrigerator if needed. Or you may serve them up with morning coffee or tea.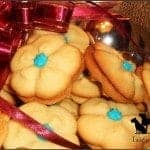 Jam Filled Spritz Cookies
Ingredients
1/2

cup

1 stick Butter

1/2

cup

shortening

3/4

cup

of sugar

1

egg yolk

toss the white

2

tsp

vanilla flavoring

1

tsp

almond flavoring

2 1/2

cups

white all purpose flour

1/4

tsp

salt
Instructions
Combine butter, shortening, sugar, egg, and flavorings in a bowl and whip together. Make certain these ingredients are well combined and creamed.

Add flour and salt. Mix well. This dough should easily pull away from the sides of your bowl.

Roll dough into a 'log' shape and insert into your cookie press or pastry bag and press out your shapes. Cooler dough works best, very cold dough can be challenging and warm dough will just make a mess.

Bake at 350° for 10 minutes. Make certain your oven is preheated!

once the cookies have baked and cooled, sandwich 1/2 teaspoon of LunaGrown jam between two cookies. Place on a drying rack or flat surface overnight.

Decorate the following day