Jam Filled Cream Puffs
I don't know why people don't make these little devils more often. The pastry for these takes about 10 minutes to create and they are so versatile. These in the photo above I filled with Vanilla Custard, some LunaGrown Pineapple Jam then topped with some shredded coconut and chocolate. The possibilities are endless though.
These would be a wonderful addition to any gathering filled with a soft Canterbury Goat cheese and some black currant jam. Imagine the astonished looks on your guests faces when you delight them with a puff filled with chicken and Swiss chard sauteed in LunaGrown Apricot Jam. I will let your imaginations run wild and leave you with this simple recipe.
Again be creative. These take such little time and effort for a delicious and beautiful touch to any gathering or event.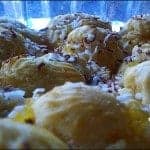 Jam Filled Cream Puffs
Ingredients
1

cup

water

1

stick butter

1/2 cup

1

cup

all purpose flour

1

good pinch of salt

1

cup

eggs

4 large eggs

1

teaspoon

sugar
Instructions
Preheat oven 425F.

In a medium pot, bring the water and butter to a simmer on medium heat. Add the flour and with a wooden spoon or spatula, stir very quickly in one direction. Carefully watch and you'll see that the flour starts absorbing the liquid -- and a dough will form. Keep stirring to continue cooking the flour and cook off some of the water, another minute or two.

You can do the next step one of two ways:

Transfer the paste to the bowl of a standing mixer fitted with the paddle attachment or to a bowl if you're using a hand mixer.

If you want to mix the eggs directly into the dough in the pot, let it cool slightly, 4 or 5 minutes, or cool off the pan itself by running cold water over its base if you will be mixing the eggs in that pot. You don't want to cook the eggs too quickly.

If you do not allow some cooling time your eggs will cook into a scrambled mess.

Add the salt, sugar and the eggs one at a time mixing rapidly until each is combined into the paste. The paste will go from shiny to slippery to sticky as the egg is incorporated. The pâte a choux can be cooked immediately at this point or refrigerated for up to a day until ready to use.

Spoon the dough into a large gallon-sized plastic bag (or piping bag.) Use your hands to squeeze dough towards the bottom corner. With kitchen shears, snip off just the tippy tip of the bag, about 1/4" of the tip. Pipe onto a baking sheet into little puffs, keeping the puffs 2-inches apart. With your finger, press down the peaks (as they can burn.) Bake at 425F for 10 minutes, then 350F for 18-30 minutes, depending on the size of your puffs.