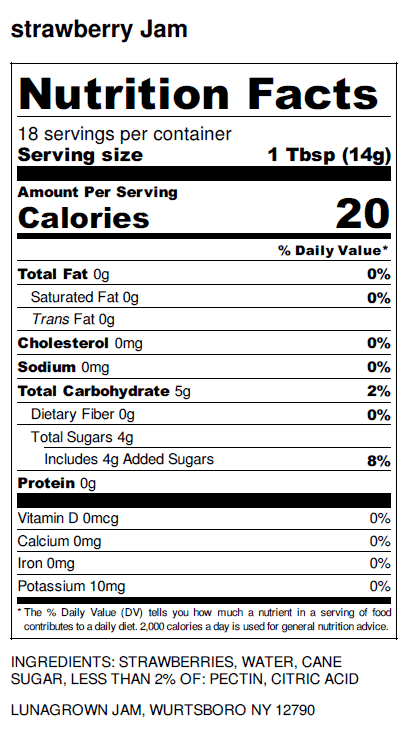 LunaGrown gathers strawberries from local farmers when in season. We create as much strawberry jam as needed for the spring and summer season and then freeze the balance of the strawberries. This ensures that we may bring you LunaGrown Strawberry Jam, created with berries harvested from local farms, at the peak of the season as well as the winter and early spring.
Our jam is as traditional as it gets. Fresh strawberries with a bit of sugar. A natural alternative to many of the commercially available products. A wonderful addition to the beginning of your day. Of course, Strawberry Jam is a treat with a variety of edibles.
She spreads strawberry jam, In the palm of her hand, Adding flavor to her handshakes, Sips life through a straw, Taking it slow, Enjoying the taste of each new day…" Mike Hauser
As with all our products LunaGrown relies on the natural sugars of the fruit for the bulk of our sweetness. You won't find any added artificial ingredients in any of our products. By creating our jam in this fashion we provide you the freedom to explore new ways of enjoying, and serving jam.
We love being creative with our jams, especially during the warmer months of the year when outdoor gatherings are abundant. These delicious Buttermilk Biscuits can be created and enjoyed with any LunaGrown jam. Children and adults alike will wait with anticipation for these beauties to be served hot with butter and LunaGrown Strawberry Jam.