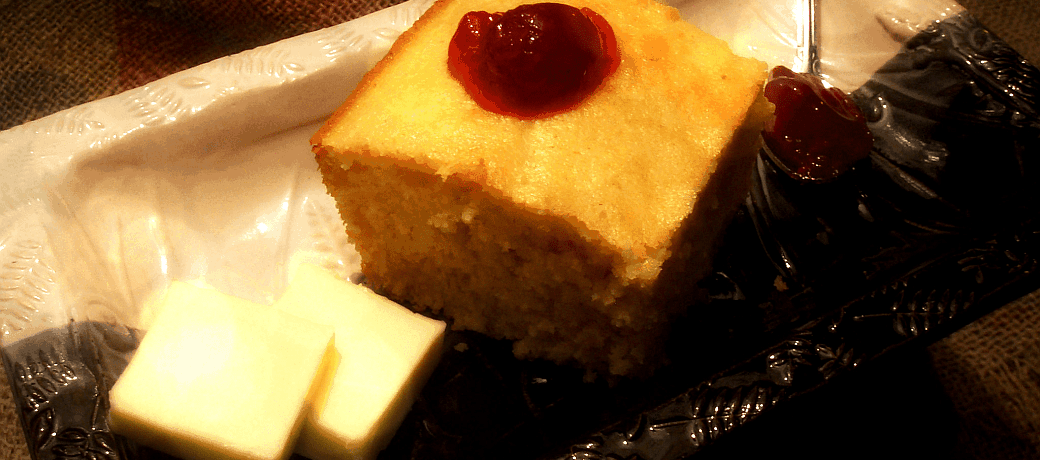 Northern Cornbread with Raspberry Jam
"The North thinks it knows how to make cornbread, but this is gross superstition," ~ Mark Twain
I got curious after reading Mark Twain's opinion on cornbread so I did some research. Something I thought would be pretty straight forward was far from it.
One article suggests that cornbread was well known to the indigenous peoples of America long before the English settlers. However, this would have been closer to a tortilla (although not by that name). The English settlers combined the cornmeal with eggs and water. These were known as Jonny Cakes. Jonny cakes were similar to today's pancake and utilized honey or molasses or maple as a sweet topping.
Domesticated Corn was developed in Mexico and made its way into the South. Southern Slaves are credited for creating the basis of what we now call cornbread. This was known as Kush or "Cush" (depending on the area) and was a Cornbread stuffing. This consisted of Salt Meat Grease to treat the pan, crumbled up cornbread, a bit of water, and wild onions, herbs, and red peppers. The corn was white corn.
"The North thinks it knows how to make cornbread, but this is gross superstition."Mark Twain
By the 1930s the Kush or Cornbread stuffing had been tweaked as most recipes are and in the south included a bit of white flour and baking soda to help it rise. It still contained no sugar and was considered something served with dinner.
Also in the 1930s a company in Michigan started making baking mixes "So easy even a man can do it" Jiffy, was created as the first prepared baking mix in the United States by Mabel White Holmes. This brought a standard cornbread to the bulk of the country. Jiffy is still owned and operated by the same family and employees about 300 workers in Chelsea, Michigan.
Okay, the sugar, the real honest to goodness reason for cornbread with and without sugar. Ask your farmer! Originally northern corn was a yellow corn variety, not very sweet (needed some sweetener). Southern corn was usually the white variety, which is sweet corn. The southwestern corn was Blue Corn, even milled almost too gritty for cornbread.
"The corn or the sugar, ask a farmer."
Farmers grew (and still do) what the land and location would offer the best and healthiest yields. The corn brought by the English died fast due to rust and blight. So healthy corn crops, grown in different regions and with different characteristics are why Southern cornbread has no sugar, and northern cornbread does. Sweet corn vs. Not so Sweet Corn.
You can if you desire, swirl the raspberry jam into the cornbread batter, or serve it on the side. You cannot beat the moistness of this cornbread and even though it's on the sweet side. Always enjoyable with a meal. Especially with smoked ham and slow-cooked green beans.
For those that are not cornbread lovers try these beautiful buttermilk biscuits.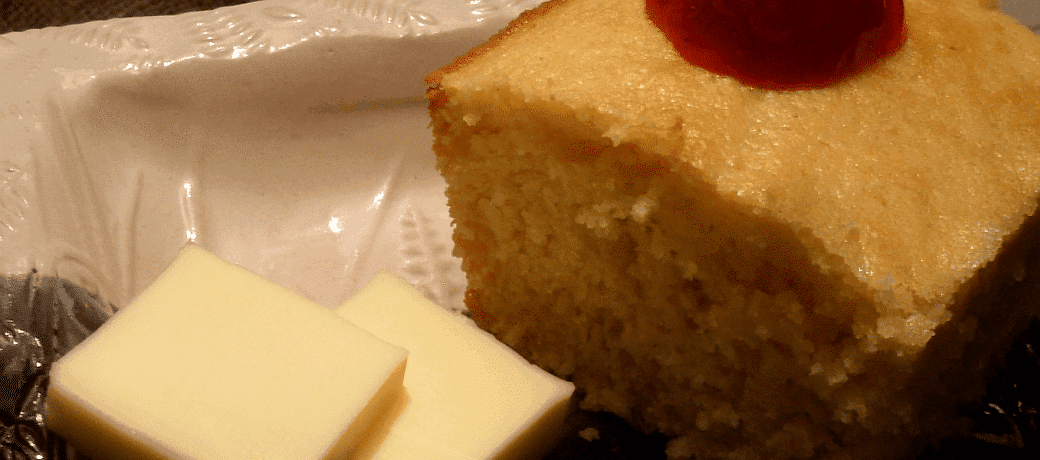 Sweet Northern Cornbread
Thick and moist Northern Cornbread, a favorite from LunaGrown Jam
Ingredients
1

cup

all purpose flour

1

cup

yellow cornmeal

you can use white if need be

1/2

cup

sugar

1

TBSP

brown sugar

1

TBSP

baking powder

1

tsp

salt

1

egg

1

cup

buttermilk

1/3

cup

melted butter

1/2

tsp

vanilla
Instructions
Pre-heat oven to 375 degrees

Spray or lightly grease a 9 inch square glass pan

Combine all dry ingredients and mix well

Add egg, buttermilk, butter, and vanilla. mix well (do not over mix)

Pour into greased pan

Bake in preheated oven for 25 to 30 minutes or until a toothpick inserted into the center comes out clean
[wip_woocarousel_products_carousel carousel_id="carousel-1″ carousel_layout="layout-4″ product_items="-1″ product_onsale="off" product_bestseller="off" product_category="5497″ product_columns="5″ product_rating="off" product_latest="off" product_dots="off"]