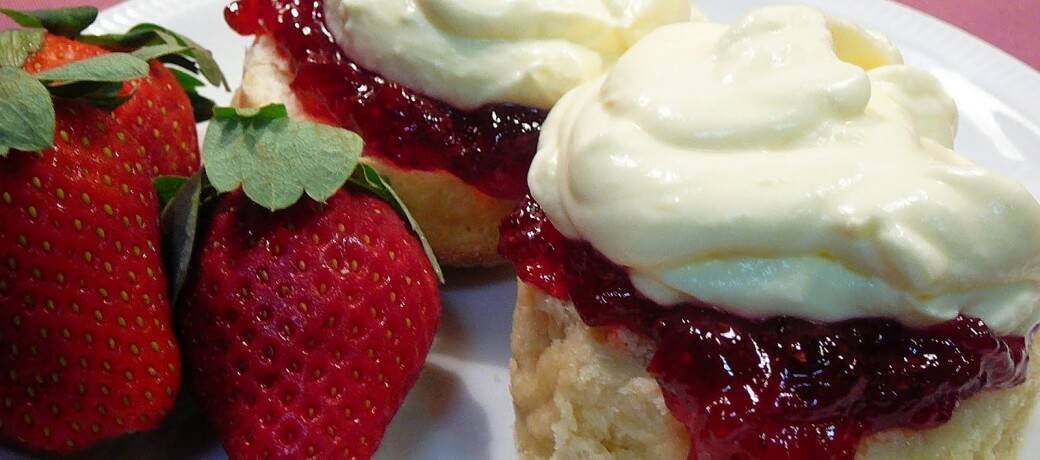 Buttery Vanilla Scones with Strawberry Jam
Years ago LunaGrown had the honor of becoming acquainted with one of the most talented scone creators in the valley. Furthermore her creations were much more in depth than ours. She did teach us a few tricks though which, with her permission, we'll share with you.
We always thought that scones were just heavy biscuits. As a result we figured they were pretty easy to throw together. Whip up in a mixer and toss into the oven. That was until we had real scones. As we learned there is an art to everything worth enjoying. This includes Scones. It is important to take your time and enjoy the process, this isn't a bowl of cereal.
We were informed that purchasing high quality ingredients is the most important place to start. Which makes sense as LunaGrown would never choose inferior berries to make jam. Why would one choose poor or fair quality ingredients when baking?
So high quality flour, sugar, and butter are important. I will not suggest brands here, however when it comes to your butter and baking, one with a higher fat content is the best choice.
There is an art to everything worth enjoying.
Another important bit of advice is to cut your butter into fine pieces or small pea size chunks and put it in the freezer, you do not want the butter and the flour to cream together. It is important to work with the butter as cold as possible. The butter chunks will melt during the baking process leaving those beautiful holes where the flavor collects.
Finally the folding of your dough especially for scones is important, don't just roll it out and cut circles. By folding the dough and re-folding you are creating those wonderful buttery layers in the scones that your jam and cream will search out.
These simple scones are wonderful anytime of day and with most any meal or snack time. We hope you enjoy and share with friends.
Our strawberry jam makes a wonderful filling in this handsome Swiss Jelly Roll, add a touch of the creme topping and oh what a delight!
These simple scones are wonderful anytime of day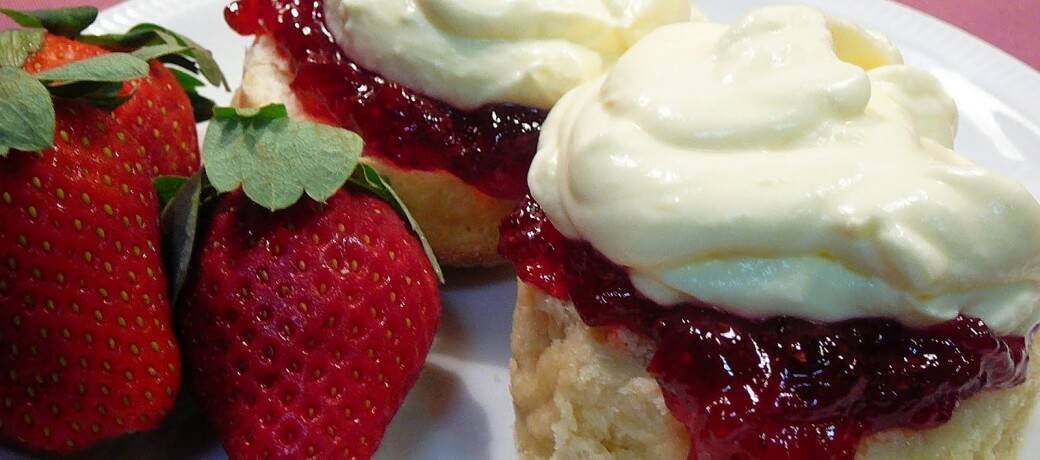 Buttery Vanilla Scones with Strawberry Jam
Ingredients
Scones:
1

cup

cake flour

not self rising

2

cups

all purpose

1/2

cup

granulated white sugar

2

teaspoon

baking powder

1/2

teaspoon

baking soda

1/4

teaspoon

salt

1 1/2

sticks unsalted

cold butter

1 1/4

cup

buttermilk

1

Tbsp

vanilla
Creme Topping:
2

cups

heavy whipping cream

1

tsp

vanilla

1

Tbsp

sugar or honey

pinch

of salt
Instructions
Scones
Cut butter into small pieces, place in bowl and put in freezer to keep very cold.

Preheat oven to 375 degrees F (190 degrees C) and place rack in middle of oven. Line a baking sheet with parchment paper.

In a large bowl, whisk together the flour, sugar, baking powder, baking soda, and salt. Blend very cold butter into the flour mixture with a pastry blender or two knives. You want the mixture to look like coarse crumbs. Add the buttermilk and vanilla then stir just until the dough comes together (add more buttermilk if necessary).

place dough onto a lightly floured work surface; roll out into a rectangle. With a short side facing you, fold rectangle into thirds, as you would a letter. Rotate dough. Repeat rolling out, folding, and rotating dough 2 more times. With floured hands, pat out dough to a 1 1/4-inch thickness, and cut out as many rounds as possible with a floured 2 1/4-inch round biscuit cutter. Place scones on baking sheet.

Then, using your thumb, make an indentation in the middle of each scone, pressing down almost to the bottom of the scone. Try not to squash the outside edges of the scone. Fill each indentation with a scant tablespoon of LunaGrown jam.

Bake for about 20 minutes or until golden brown and a toothpick inserted in the middle of a scone comes out clean. Remove from oven and transfer to a wire rack to cool.
Creme Topping
Either by hand or using a mixer whip heavy cream to a semi thick consistency

Add vanilla, salt and sweetener. Continue to whip the cream until desired consistency.

Serve atop warm scones.

*Note: If you over-whip the cream it will begin to become butter, at this point you might as well continue and serve your scones with sweet butter rather than whipped cream!
[wip_woocarousel_products_carousel carousel_id="carousel-1″ carousel_layout="layout-2″ product_items="-1″ product_onsale="off" product_bestseller="off" product_category="5497″ product_columns="5″ product_rating="off" product_latest="off" product_dots="on"]