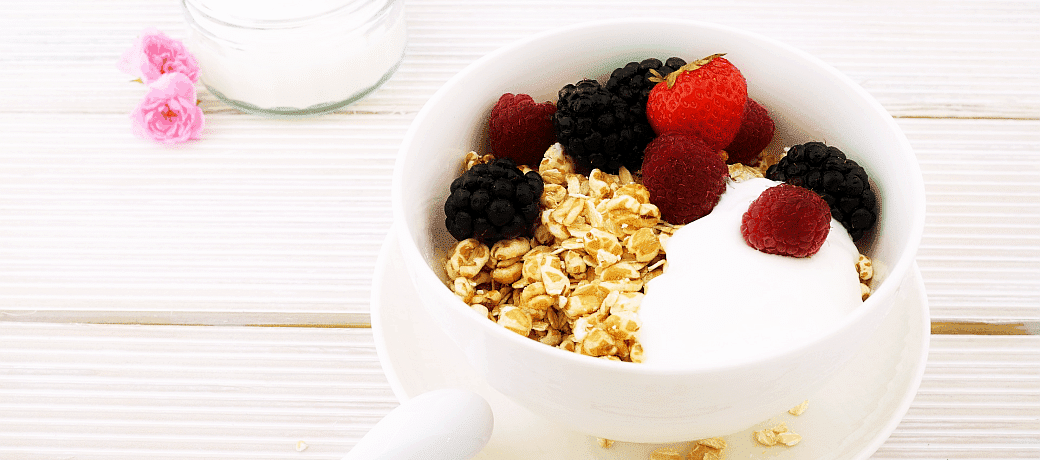 Granola and Jam and Yogurt: Oh My!!!
A great start with Granola, Jam and Yogurt will keep you going and keep your mind alert! Lots of people frequently skip their breakfast, but were you aware that a good breakfast is probably the most crucial meal of your entire day? Filling up with healthy goodness to start helps to pump up your metabolism and will likely keep you sharp all day.
Many people also choose a handy sugar loaded snack to help get them through the day rather than a well balanced one. We suggest trying the alternatives below to help give you that needed boost of energy and nutrition rather than the coffee and chocolate bar.
Granola contains oats, which are a whole grain. The January 2008 issue of the American Journal of Clinical Nutrition published a study that confirmed the regular consumption of whole grains can help reduce risk factors for heart disease and diabetes.
Whole grains are an important source of fiber which can regulate your digestive system. Granola often also includes nutrient-rich dried fruit and nuts.
Yogurt is often found on healthy food lists and for good reason. It is highly nutritious and is an excellent source of protein, calcium and potassium. It provides numerous vitamins and minerals and is relatively low in calories.
The Dietary Guidelines for Americans recommend that individuals ages nine and older consume three servings of milk, cheese or yogurt each day; children 4-8 years should consume 2-1/2 servings. One serving of yogurt is one eight-ounce cup or container.
Another nutritious start to the day might be warm oatmeal with LunaGrown jam spooned in rather than sugar. One of our favorites is this beautiful baked apple with cranberry jam, excellent with the addition of spiced granola.
Recipes:
Jam, Granola & Yogurt Parfait
4 Tbsp. of your favorite LunaGrown Jam
6 oz. Greek yogurt
¾ Cup Granola
Spoon 2 Tbsp. preserves into the bottom of a 12 oz. jar or cereal bowl. Sprinkle half the granola over preserves and top with yogurt. Spoon remaining 2 Tbsp. preserves over yogurt and top with remaining granola to serve.
Jam and Granola Dessert Parfait
9 oz (1 jar) LunaGrown Jam
2 cup low-fat vanilla yogurt
2 oz fat free cream cheese
1 tbsp honey
4 tsp ground cinnamon
1 cup  Granola
Combine yogurt, cream cheese, honey, and cinnamon in a small bowl; beat with an electric mixer on medium speed till combined. Chill for 1/2 hour. To assemble, layer LunaGrown Jam, yogurt-cheese mixture, and Black Lab Naturals Granola as desired in individual dishes. Serve immediately.
Many people have asked which is the best Jam and Granola to use in their Parfait, my suggestion is to start with your favorite Jam flavor paired with your favorite Granola flavor and a plain yogurt. You can experiment from there with your mixtures.  But the flavor decisions are up to you and your pallet.
These recipes and more can be found in the Jam Maker's book "Beyond the Bread ~ Tasteful Exploration with Jam & Marmalade."