Holiday Cake With LunaGrown Jam
This wonderful cake was given to me as a gift and made with a jar of LunaGrown Fig Jam. I expected it to be tasty but I was amazed at just how delicious it was. It is actually more like a winter bread than a cake, which means I won't feel guilty for eating the whole thing!
It was suggested that I make some caramel icing to enjoy with this treat as it has been traditionally served. However, I have found that plain or just a bit of butter compliments this moist delight and it's the combination of flavors. I have also found that a spoonful of LunaGrown Apple or Pear Jam enhances the subtleties of the delicate spices.
I imagine I will likely eat the majority of this in the morning hours. However, I am considering it with a nice cheese pairing and for the holidays perfect for that adult gathering with wine and fresh fruit.
This cake is one of those gifts I wish I had given. It is clear that some considerable thought went into the preparation and choice of ingredients. I am thankful and grateful to be able to share the recipe with you.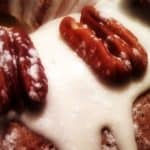 Holiday Cake with LunaGrown Jam
Ingredients
1

cup

oil

1

cup

sugar

3

eggs

1

tsp.

soda

2

cups

flour

1

tsp.

nutmeg

1

tsp.

allspice

1

tsp.

cinnamon

1

tsp.

salt

1/2

cup

buttermilk

1

tsp.

vanilla

1

cup

LunaGrown Fig or Apple Jam

1

cup

chopped Walnuts or Pecans
Instructions
Heat oven to 325°.

Grease and flour a 12-cup Bundt or tube cake pan or spray with baking spray.

Combine flour, sugar, baking soda, salt, and spices in a large mixing bowl; add oil and beat well.

Add eggs and beat until well blended. Beat in buttermilk and vanilla.

Stir in preserves and chopped pecans.

Pour into the prepared baking pan; bake for 55 to 60 minutes, or until a toothpick or cake tester inserted into the cake comes out clean.