Key Lime Cheesecake with LunaGrown Strawberry Margarita Jam
I love cheesecake! I love cheesecake so much that I am often hesitant to purchase a slice for dessert from fear of being disappointed.
Many years ago I worked in a restaurant that got its cheesecakes made fresh from a local convent. We called it sister sin cake. What those nuns did to create such a delight remains a mystery, but it was both a sin to miss one bite, and a sin to eat more than one slice. That cheesecake is but a memory these past twenty years.
Many friends and business acquaintances strictly prefer a nice Italian Ricotta Cheesecake. While others are huge fans of the basic cream cheese cheesecake. There are so many varieties of cheesecake we believe everyone should have a favorite and they should all be tried.
Summertime is perfect for anything lime and you cannot do better than a nice Key Lime during the summer heat. I discovered this recipe on Epicurious and think I might be in love. Sorry Nuns.
The combination of Key Limes and cream cheese is harmonious. Top that off with LunaGrown Strawberry Margarita Jam and you have the perfect pair.
Key Limes and Strawberry Margarita all in one beautiful dessert. If this dessert makes it out of your home to a social gathering, I would say you have some very strong will power!
Perhaps you would enjoy a whole bunch of mini-cheesecakes to offer at your next social gathering. We offer our favorite recipe.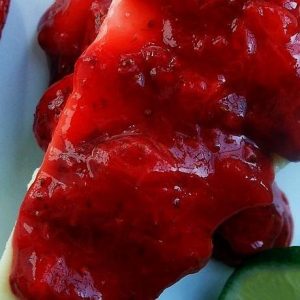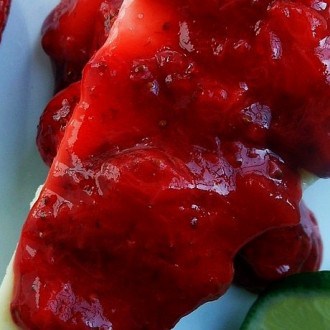 Key Lime Cheesecake with Strawberry Margarita Jam
Ingredients
Lime custard
6

large egg yolks

3/4

cup

sugar

6

tablespoons

fresh Key lime juice or regular lime juice

1

teaspoon

grated Key lime peel or regular lime peel
Crust
1 3/4

cups

graham cracker crumbs

about 12 whole graham crackers

1/4

cup

sugar

1/2

teaspoon

salt

1/2

cup

1 stick unsalted butter, melted
Filling
2

8 ounce packages cream cheese, room temperature

2/3

cup

plus 3 tablespoons sugar

2

large eggs

3

tablespoons

fresh Key lime juice or regular lime juice

1

tablespoon

grated Key lime peel or regular lime peel

1 16-

ounce

container sour cream

Thin lime slices
Instructions
For lime custard:

Whisk all ingredients in heavy small saucepan over medium heat until custard thickens and boils for 30 seconds, about 8 minutes. Cool to room temperature, stirring occasionally (mixture will thicken).

For crust:

Preheat oven to 350°F. Wrap 3 layers of foil around outside of 8- to 8 1/2-inch-diameter springform pan with 3-inch-high sides. Butter pan. Stir first 3 ingredients to blend in medium bowl. Mix in butter until moistened.

Press crumb mixture evenly onto bottom and 1 1/2 inches up sides of prepared pan. Bake just until set, about 5 minutes. Cool completely. Maintain oven temperature.

For filling:

Place cream cheese, 2/3 cup sugar, eggs, lime juice, and lime peel in processor; blend well.

Spoon custard into crust; smooth top. Carefully spoon filling over. Set cheesecake in large baking pan. Add enough hot water to baking pan to come 1 inch up sides of cheesecake pan. Bake until almost set but not puffed and center moves slightly when the pan is gently shaken - about 45 minutes.

Meanwhile, stir sour cream and remaining 3 tablespoons sugar in medium bowl to blend.

Carefully spoon sour cream mixture over hot cheesecake; smooth top. Bake until topping sets, about 10 minutes. Cool 10 minutes. Run a knife around sides of pan to loosen.

Cool cheesecake completely. Cover and refrigerate overnight. Do ahead Can be made 2 days ahead. Keep refrigerated. Release pan sides from cheesecake; transfer to a platter. Garnish with lime slices, LunaGrown Strawberry Margarita Jam and serve.