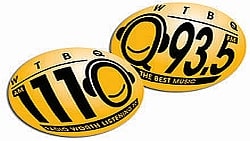 LunaGrown joins WTBQ Barbara Martinez, August 12, 2021
An impromptu interview with Barbara Martinez and Christopher Wilson from LunaGrown Jam.
Barbara – Hi, Chris.
Chris – Good morning, Miss Barbara. How are you?
Barbara – Good, good. It's so great to have you here.
Chris – It's great to see you. And you look radiant today.
Barbara – It's the collagen.
Chris – Is that what it is?
Barbara – This is a family show. I've been taking one of these Collagen elixers every single morning. And I'm trying to have my camera go live here… Every single morning. And everybody keeps saying that I have, this glow and I want to think that's it it might be Orlando as well, but we'll just leave it at Collagen. So, Chris, tell us, why were you here at the studio, even though I love seeing you. And I love that you're hanging out with me, but I know that Taylor's a big fan of something that you do. And so you were doing a delivery huh.
Chris – I was dropping off. Lemon Lavender Marmalade.
Barbara – Lemon Lavender marmalade,
Chris – Which is the first 1st product you tasted from LunaGrown jam two and a half years ago.
Barbara – Oh, that's right. You know what the funny thing is? Two and a half years ago, I was doing a Facebook live, and I went over to your stand to your booth and you came on the live feed with me, and it lasted maybe less than five minutes.
Chris – Yes.
Barbara – And then fast forward. What? A year later, we meet again for the first time, but I didn't even remember.
Chris – No, I know. It's looking back. And you go, wow, that's Kismet. That's so, yeah. This is how it's gonna be? Yeah.
Barbara – It was like you were like, you know, we actually met each other before. And I'm like, get outta here. That's so crazy how the universe works. But I am so glad that you are one of my besties now.
Chris – And I'm so glad to know you.
Barbara – I want say Hi to Anthony Ramos. who just jumped on. And I've got a bunch of other people that are jumping on, so you can just I can't see your name. So if you say Hello that way, I can say Hi right back to you and give me some love and give me some shares. Because if you share this video, you're going to get a chance to win a LunaGrown. Well, how do we want to call it.
Chris – I don't know. What are we giving away?
Barbara – You're jam that you're making for La Taza
Chris – Oh, We haven't decided what we're making for La Taza.
Barbara – Even. I don't know what it is
Chris – we don't know yet.
Barbara – Is it going to be fruity? Is it going to be savory? Is it gonna be spicy?
Chris – it's going to be what you tell me
Barbara – No, I want to see what you think will be described
Chris – A little bit you, little bit me. That means it'll be a little fruity and a little spicy.
Barbara – Who's the fruity one? Just kidding. So I just. Hello, everybody. Thank you so much for hanging out with me. It's a little awkward the way I'm holding the camera for those that are watching me on Facebook because I forgot my tripod. So I got to figure out during the break how I'm going to prop you guys up. In the meantime, Chris, tell us about what you have been working on. I know you've been extremely busy. Covid knocked out a bunch of businesses, but for you, it was a bit weird transition.
Chris – COVID with everybody home Last year, COVID increased our sales. We had a lot of people ordering from the Internet, which was great. And we were very happy to be able to get that to their doorsteps. Then this year, as things opened up, what didn't open were some businesses that just could not make it through. So we did lose here and there. Strangely, though, we got busier this year. I don't know how that happened, but it did. And I'm very grateful. And this is our 10th year in business.
Barbara – Ten years,
Chris – Ten years.
Barbara – Congrats! For those people that have not heard the story before or have never seen us together talking about it. How did you start the jam business? How did you get into that?
Chris – I have good friends of mine who bought land and they were going to develop it and then decided we're just going to turn this into a farm. But we had taken our dogs up to the property and let them run it's. 50 acres. And Luna, we couldn't find her. She just kind of got lost on the land. And when we did find her, she was eating blueberries out of eight acres. We had eight acres of wild blueberries and there she was picking them off And so the deal started, like, what are we going to do? And that started the jam company. The very first product was Blueberry Jam.
Barbara – Oh, very cool. And that's LunaGrown. Wow. What kind of dog was Luna?
Chris – Luna, she was an Amstaff, part PitBull Part staff. Sherrier Stafford Terrier say that ten times as she was a great girl.
Barbara – And so ten years later, you're celebrating. Luna's found treasure.
Chris – We're still going. We're still going strong. This was our first year for Red Currant Jam, which we've been growing, but we got such a wonderful harvest this year that we can offer it. We offer the first year we were in business, we had a request for Banana Foster Jam.
Barbara – Okay.
Chris – And it didn't really take off. And so we just got another request. So that's available this year 10th anniversary is Bananas Foster. And it's amazing and waffles with a rum syrup. And we're going to do a chocolate fig sauce this year.
Barbara – That's so fun
Chris – For the holiday season. we've got some things planned, and it's been a wonderful ride so far. Ten years we've had a book come out, we've done radio with you and other folks. It's just been a pretty awesome business experience so far.
Barbara – And you just keep growing. And one of the hardest things during COVID for your business. And I think a lot of businesses experienced this wasn't the fact that the orders weren't coming in. It was that you couldn't…
Chris – get jars. You couldn't get glass in America.
Barbara – I guess people were hoarding the glass, like paper towels.
Chris – The original thought was, oh, my God, every homeowner in America is Canning stuff now. But that's not what it was. What happened is across America COVID hit businesses. So if the glass manufacturer had ten people get sick, they had to shut down the manufacturing part. As that reopened, though, the people in the shipping Department were sick. So they had to shut the shipping Department down. So the backlog on getting glass was atrocious. And then when you could get the glass, you couldn't get the lids, you couldn't get the metal. So even today, I'm ordering glass separate than I am the lids so that it all matches it's all from different companies. And if it's anything coming from China, that's like three or four months still backlogged because of Covid.
Barbara – So you, you had to…
Chris – I switched branding, not brand. We went from a nine-ounce squat jar to an eight-ounce tall Paragon jar, and we're staying with them.
Barbara – That I like the tall jars
Chris – The short stock jars are still hit or miss with the industry. So when I can find them I buy them in bulk, because I make jam for other people or other companies, I can't make them switch their branding.
Barbara – So when you say you're making jams for other people, are you wholesaling? Where are you located? Are you still strategically placed in different shops?
Chris – And so we're still selling New York to California. So anywhere from here to there, anywhere in between. I think we have roughly 42 accounts right now. And the products that we make for other companies, I think there are three companies that we make, and it's labeled for them. We don't put Luna's labels on them.
Barbara – Okay, so tell us for those that are just hearing this for the first time about Luna grown jams, how many jam flavors do you offer?
Chris – Well, technically, I try to offer eight per quarter. So each season you get whatever's available at Season peak. So we're going into stone fruit time, so you get a peach and apricot and plum. And as we go into the fall and there's Pear and Apple and so forth this year with Covid, and with people (I'm) a little more adventurous, we're having to step outside our normal eight. So it might be ten currently that we're trying to keep up with.
Barbara – That's fantastic. Well, we're going to take a little break and when we get back. I'll give you some more information about LunaGrown Jam, He's got to go Cook. So stay with me.
Chris – Thank you.
Barbara – All right, everybody. Chris has got to go make some jams. Thank you so much for hanging out with me.
Chris – Thank you for having me. That first Segment.
Barbara – That was very kind of you to keep me company. I was like, oh, man, I'm going to be all by myself today.
Chris – You're never alone.
Barbara – That's true. Thanks, guys. All right, Chris. Love you.
Chris – Love you.
Barbara – See you soon. I cannot wait to see what LunaGrown is making for La Taza. I'm super excited. Be Safe, Have a nice weekend.
Chris – You too.
Barbara – All right, guys.
More great interviews, music, and more on WTBQ Radio. One of the last privately owned community radio stations in the United States and the only station in NY with Live call-in shows!