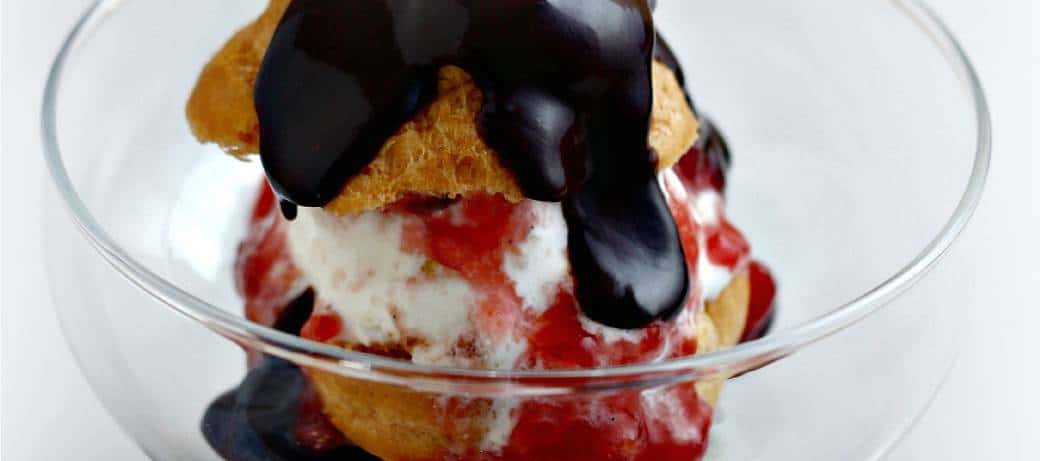 Ice Cream & Jam Filled Profiteroles
A profiterole, cream puff, or choux à la crème is a French dessert pastry ball filled with whipped cream, pastry cream, custard, or (particularly in the US) ice cream. The puffs may be decorated or left plain or garnished with chocolate sauce, caramel, or a dusting of powdered sugar. Then came the Jam.
Once a year a small group of friends, who are in the business of food, gather for a "Pot Luck" meal. Each person chooses a favorite to create and the courses evolve. There are no rules, no criticism, no judgments. It gives us the opportunity to experiment with guidance from friends and fellow artisans. To some, this might not sound like a big accomplishment, but if you run a farm, a bakery, or are a jam maker time is precious. So is this event!
The Farm Girl graced us with Profiteroles homemade, from scratch! She created caramel and chocolate sauce from scratch as well. Some of us were lucky enough to get some chocolate sauce to take home to dunk bananas in. We filled the Profiteroles with local ice cream and topped them off with chocolate and caramel. Then things got a bit decadent. We used the balance of the Blood Orange and Raspberry Marmalade, originally designated for cheese pairing, to drizzle into the combination.
As you can see from the image above, this is nothing but pure sinful delight! We enjoyed many dishes that evening, I cannot say I had a favorite as each course offered a different experience. We also had Kale salad with a raspberry vinaigrette dressing, a shrimp and vegetable stir fry and some Italian Arancini, a newly found favorite for me. Fresh cheeses and fruits, an array of beverages, and a Jello mold. No matter how wonderful a meal might be, you always remember it by the dessert and the company.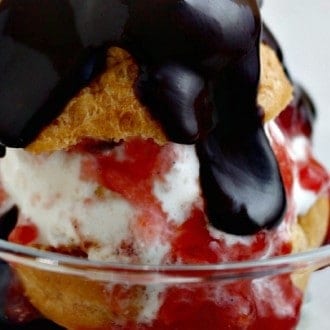 Profiteroles With LunaGrown Jam
Ingredients
2

ounces

butter

3

⁄4 cup water

1

⁄2 cup flour

2

eggs

beaten

1

tablespoon

sugar

optional
Instructions
Chop butter, melt in water and just bring to boiling. Immediately add flour, and mix well with wooden spoon, until it forms a dough that leaves the side of the pan. Remove from heat and cool 2 minutes. *If the dough is not cooled you will inadvertently cook the eggs and ruin the dough.

For a sweet pastry, add the sugar to the beaten eggs. Stir in the eggs, mixing until it look like dough again.

Using a pastry bag or spoon, shape the dough as desired, for profiteroles: pipe a mound w/star tip onto a greased cookie sheet. Keep in mind that it will grow to aprox 3xs its size when done.

Bake at 425 'til it looks crisp and golden, about 20 mins for half dollar sized puffs. The Farm Girl says she lowers the temp to 325 for an additional 10 minutes. Cut in half, or cut a slit in the side to let the steam escape, if you don't do this fairly quickly they get soggy inside.

These freeze nicely and can be filled just prior to serving for best results.
Nutrition
Serving:
4
oz
Sodium:
299
mg
Calcium:
4
mg
Vitamin C:
0
mg
Vitamin A:
0
IU
Sugar:
25
g
Fiber:
1
g
Potassium:
77
mg
Cholesterol:
75
mg
Calories:
378
kcal
Trans Fat:
0
g
Saturated Fat:
8
g
Fat:
21
g
Protein:
5
g
Carbohydrates:
42
g
Iron:
6
mg
[wip_woocarousel_products_carousel carousel_id="carousel-1″ carousel_layout="layout-2″ product_items="-1″ product_onsale="off" product_bestseller="off" product_category="5497″ product_columns="5″ product_rating="off" product_latest="off" product_dots="on"]