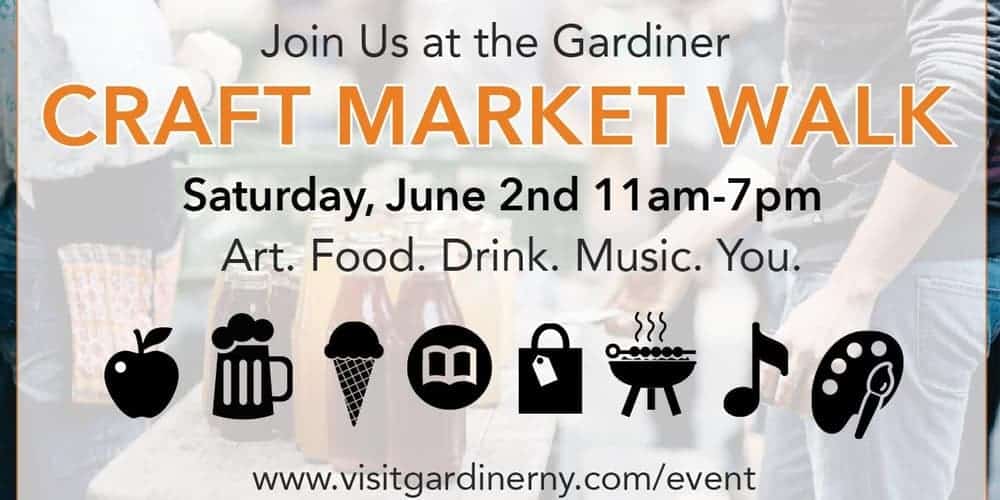 Date/Time
Date(s) - 06/02/2018
11:00 am - 7:00 pm
Location
Town of Gardiner
133 Farmers Tpk
Gardiner, New York


Add events to: iCal
Add events to:

Events RSS Feed

THE CRAFT MARKET WALK IS AN EVENT INSPIRED BY THE ARTISANS, FARMERS AND CRAFTSMANSHIP IN AND AROUND GARDINER, NY.
Peruse through a one mile Craft Market Walk stretching from the Gardiner Library. Reaching from the Farmer's Market Grounds, across the Gardiner Rail Trail and onto the Yard Owl Brewery!
Enjoy handmade jewelry, vintage furniture, all-natural skincare, herbal remedies, farmhouse pottery & up-cycled clothing. Indulge in small batch spirits, artisan beer, local wine and all-day live music. Partake in raffles and activities all along the way.
This event is family-friendly and pet-friendly. We encourage all ages to join in the festivities. Come for community, shopping, food, and fun!
For more information visit Gardiner The Event.