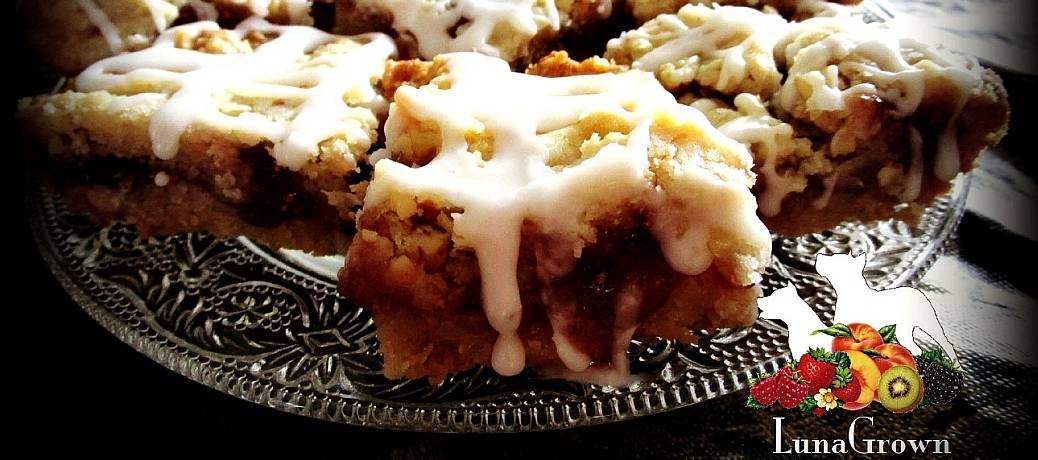 Jam Crumble Bars
This is a classic favorite for many jam lovers. It's quick and easy to create and always a big hit at any social event. What makes it even nicer is it's versatility.
Yes, you can choose from any favorite jam you might fancy. To take it a step farther you could utilize oatmeal, pecans, chocolate chips, coconut, raisins, craisins, peanut butter chips or any combination you feel your jam might lead you to consider. You can frost or not frost.
Enjoy this version of jam crumble bars, perfected by Kasha of The Farm Girl Cooks. This is the purest version we can locate so it offers the most versatility. Also, Kasha's rendition is lower in sugar than most. We love this!
For those looking specifically for the version made with Oatmeal, you can substitute 1/2 cup of flour for 1/2 cup of whole oats. Please do not use instant oats, you will be very disappointed!
If you're looking for an additional treat to bring to a gathering or give as a gift check out our spice cake.
Enjoy and Share!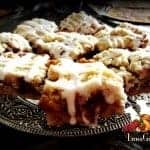 Farm Girl's Favorite Jam Crumble Bars
Ingredients
3

cups

all purpose flour

1/3

cup

+ 2 Tbsp white sugar

1/4

cup

+ 2 Tbsp brown sugar

1 1/2

tsp

baking powder

1/2

tsp

salt

do not omit

3

sticks COLD butter

unsalted and cut into bits

1 1/2

tsp

vanilla extract

2

egg yolks

9

oz

LunaGrown Jam
Instructions
Combine flour, sugars baking powder and salt in bowl of food processor. Pulse a few times until all dry ingredients are evenly distributed.

Add butter and pulse again until coarse crumbs form. Add extract and egg yolks then pulse a few more times until all ingredients combine into big hunks of beautiful dough.

Remove 3/4 cup of dough and set aside. Pour remainder of dough into buttered 12 x 8 pan (1/4-sheet size) and press down into an even layer with just a small rim rising around the edges.

Spread the unbaked crust with your favorite LunaGrown Jam then sprinkle the reserved crumbs evenly over the top.

If you are adding additional items such as nuts, dried fruits, or chocolate chips, combine about 1/2 to 3/4 cup to the crumbs you are using for the top layer. Avoid adding these to the bottom crust layer as they may stick to the bottom of the pan.

Bake this in a preheated 350° oven for 30 minutes. I like to give mine a 180-degree turn about halfway through cooking so it cooks evenly. My oven isn't very consistent.

Remove from oven and cool on wire rack until completely cool. Store for a week or more well-wrapped in plastic wrap or a tightly closed container.

If you would like to whip some icing up for your Jam Crumble Bars, a teaspoon of butter, 1/4 cup of milk, and powdered sugar to the consistency you are looking for will do the trick! You may add a little vanilla, or some orange zest to give your treat a personal touch. We won't tell your secret!