Are Your Social Gatherings Meeting Their Potential?
Are you a bit uncertain on the finer points of hosting an elegant yet relaxed function? Concerned you may have overlooked something? Perhaps you are in need of some assistance pulling it all together.
LunaGrown can offer you some pointers on a clear path to a well-planned social gathering. We are not talking about a large reception by any means but a small social get-together. The same suggestions would also apply for a more intimate gathering.
One of the first things we would like to mention. If you are serving alcoholic beverages of any type it is imperative that you also serve food. Choose an assortment of foods that complement your beverage choice as this will also help balance the alcohol consumption.
There is nothing worse than offering the finest wines or cognacs to guests who find that their palate is left empty at the end of the evening. Even worse are inebriated guests who mismanage their social skills. Offering foods that complement your beverages can assist in a well-managed gathering.
Keeping in mind that this is a social gathering and not a sit-down meal, be specific in thought when choosing your menu. Offering a well-balanced array of dairy, grain, protein, and fruit in addition to your beverage and, of course, the jam will meet your needs perfectly.
 LunaGrown Suggests
The Sophisticated Infusion ~ LunaGrown Lemon Lavender Marmalade
United with a Distinguished Gin or Vodka. We suggest a Classic Cheddar Cheese and perhaps some light Sea fare Accompanied by some Dark Chocolate, Whole grain Artisan Bread and Rosemary Spiced Walnuts.

The Decadent Liaison ~ LunaGrown Raspberry Jam
Tapped on a Dark Chocolate Mint Wafer or Chocolate Scone. We suggest a Pecorino or Gouda Cheese, served with a Perfect Vodka Martini, Up! Served with additional fruits and Glazed Pecans.

The Distinguished Affair ~ LunaGrown Wild Blueberry Jam
Coupled with a young Chianti. We suggest Blue or Asiago Cheese and perhaps some thinly sliced Prosciutto. Accompanied by a Savory Scone, some Fresh Berries and Dark Chocolate.
Explore Pairing with Cheese and Wine & Other Fineries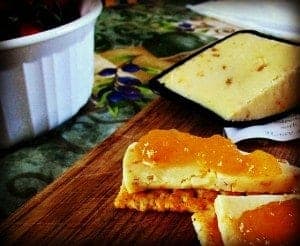 There are many kinds of cheese and cheese nuances to choose from. Artisan bread, scones, whole grain crackers or the likes are a perfect starting point.
We suggest thinly sliced well-salted meats such as Prosciutto, Salami, or Sopressata even smoked salmon or salted fish. Or if you are comfortable some finer roasted nut varieties.
LunaGrown always suggests jams when it comes to gatherings and pairings, fresh fruit is also important.
Fresh fruit, when serving most alcoholic beverages serves a few purposes. It can subtly enhance the flavor of the beverage and oftentimes counter any bitterness the beverage might have left behind. This is especially true with wines.
Also, fruit contains both fiber and natural sugars which tell our bodies to utilize what is in our stomachs and encourages the digestion of alcohols in the body. Brandied pears do not count as a fruit in this instance, though.
While pastries, cakes, and pies are certainly festive, we don't suggest heavily sugared items for a gathering such as discussed. In our opinion, they would be better served at a celebratory event.
Included here, is chocolate. Fine bittersweet chocolate can add an air of decadence to any social gathering. Choose your chocolate wisely, though. There are a great number of gourmet chocolates available, choose one that best suits your occasion. It is usually wise to avoid milk chocolate and opt for a dark or bittersweet instead.
Large or Small Guestlist
When preparing for your gathering it is important to be aware of the number of guests you are expecting. If you are expecting a larger crowd, it is better to create several smaller trays that can be chilled prior to serving, rather than one large spread (unless you can keep it iced).
This will help keep the appearance of abundance even as supplies dwindle. With careful planning, you can ensure your meats, cheeses, and jams maintain optimum temperatures for service. Thus avoiding quick spoilage.
Swap out serving trays as needed to keep your guests enjoying the freshest delights you have to offer. Avoid storing fresh flowers with your food offerings as it will cause early spoilage of fruits and some meats.
Get Additional information by reading our guidelines on Jam and Cheese Pairings or Jam and Wine Pairings. Enjoy additional guidelines and recipes in our book "Beyond the Bread ~ Tasteful Exploration With Jam & Marmalade" in both print edition and Kindle.