Jam and Cheese Pairings
When pairing Jam and Cheese I like to look at the whole picture.  You may be serving your Cheese and Jam pairings with wine, additional fruits, and maybe Black Walnuts or Smoked Almonds, an Artisan bread, and fresh basil or ginger. Keep in mind that your goal is to offer tastes that complement one another, not overpower one another.  It should be a thoughtful, sophisticated adventure for your palate not a college frat party for your mouth.
Acquiring the highest quality cheese is an important part of the process. Once you have chosen the cheese which to build your paring on it is imperative to engage it with a discerning jam such as LunaGrown. A sophisticated cheese paired with LunaGrown distinguished Jam is certain to bring you great pleasure. Our suggestions are:
If you are not a wine connoisseur ask questions and find out what wines would best suit the pairing you had in mind as well as the atmosphere you are creating. Or see our suggestions here: LunaGrown suggested Wine and Jam Pairings: Wine & Jam Pairing
When serving Jam with Cheese as a pairing it is best to chill your jam as well as the serving dish or cup the jam will go into, this will keep the jam firm for a longer period of time while it sets out as well as keeping it fresh in appearance and flavor.
Discover more about Jam, Cheese, and Wine Pairings for your next Social Gathering by reading our helpful guide.
Be creative and Share the Smile!
Country Traditional Jams – Huckleberry, Elderberry, Wild Grape are best served with an Extra Sharp Cheddar or a Muenster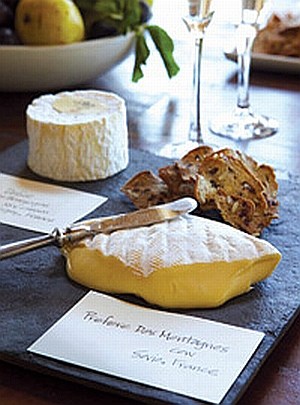 A few cheesy facts
What's the difference between sheep's, goat's, and cow's cheese?
"The difference between the three kinds of milk is their composition or structure. The milk has different protein structures, different fatty acids, and different butterfat contents. This is part of the reason that each milk, when it becomes cheese, tastes different from the others. There are other factors too, including how each animal metabolizes what they eat. That translates directly to the milk. For example, goats don't metabolize carotene the way that cows do. As a result, goat's milk remains snow white in color, while cow's milk has a yellowish or sometimes orangeish hue."
Which types of milk are used for aged cheeses?
"When it comes to aging, some milk lend themselves to aging longer than others-that is, cow's and sheep's milk cheeses tend to be aged longer than goat's milk cheeses because of their structure. However, there are at least three California goat cheese producers who are making long-aged goat's milk cheeses. Those cheeses are extremely flavorful-nutty, caramel-like, and yet fruity. Still, they tend to be more dry and crumbly than their cow's and sheep's milk cheese counterparts."
–Laura Werlin, The All American Cheese, and Wine Book
What makes blue cheese blue?

"A beneficial mold called Penicillium Roqueforti. A cousin to the penicillin that fights infection in people, it gives a wonderful flavor to the cheese, and protects against any undesirable molds and bacteria."
Why is one cheese soft, like a Brie, and another cheese firm, like Parmesan?

"Milk is made up of many nutrients, among them a protein called casein. During cheese making, milk is fermented by a collection of beneficial bacteria we call a starter culture. Enzymes released by the starter culture change casein, milk protein, in a process called proteolysis. This controls whether the cheese is soft or firm. How well and how long you heat the curds, how you manipulate the curd and the kind of rind you cultivate also have some influence, but for the most part you need to choose the right starter culture for the right kind of cheese."

Is "raw milk" cheese safe?

"If cheese is made with raw milk and aged over 60 days, as required by Federal Law, it is as safe as a cheese made with pasteurized milk. Of course, you only want to eat cheeses made by professional cheesemakers that are regularly inspected, whether raw or pasteurized. The reason raw milk, which in rare cases can carry organisms that make you ill, is safe in cheese aged over 60 days is because cheese is cultured. Beneficial bacteria are added to the cheese which wipes out all competition and protects their turf, much like gangs. After 60 days, any unwanted bacteria have been vanquished."
-Dan Strongin, Edible Solution (www.ediblesolution.com)
*A Few Cheesy Facts reprinted from Exploratorium